Reading in the news - Fri 6 Mar
06 March 2020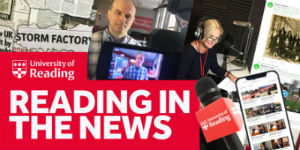 Covid-19:
Dr Rachel McCloy (Psychology) spoke to BBC World about the psychology behind panic buying following hand sanitizer and toilet roll shortages due to stockpiling.
Dr Simon Clarke (Biological Sciences) spoke to Al Jazeera and France 24; and is quoted in the Sun, Metro and Mail Online about the outbreak.
New Scientist and Newsweek quotes Prof Ian Jones (Biological Sciences) about questions over whether there is more than one strain of the novel Coronavirus.
An article by Prof Adrian Bell (ICMA) about black death and economic impact of pandemics is reposted by Metro.
Syria refugee crisis: Dr Reuven (Ruvi) Ziegler (Law) spoke to Al Jazeera, France 24, CGTN and TRT World about a fresh migrant crisis with Syrian refugees seeking asylum in Greece.
Women in Business: Article in the FT including a profile on new UK ambassador to the US Karen Pierce includes mention of the eight Women in Business essay competition run in partnership with Henley Business School.
Other coverage