Reading in the news - Tue 10 Mar
10 March 2020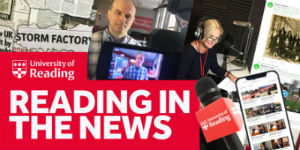 COVID-19:
<!--[if !supportLists]-->- <!--[endif]-->Dr Al Edwards (Pharmacy) was interviewed on BBC News Channel on the latest cases of the coronavirus and measures the UK might take to prevent it from spreading.
<!--[if !supportLists]-->- <!--[endif]-->Dr Simon Clarke (Biological Sciences) spoke to Sky News and Heart Radio Berkshire on how effective containment measures could be. He is also quoted in Mail Online, Yahoo News, ITV News Online, AOL, This Is Money and Yahoo News again.
Side hustles: The Financial Times features Henley Business School research on the goring number of people who run businesses in addition to their day jobs. Read Henley's news story.
Tuition fees: University Business quotes University of Reading Vice-Chancellor Professor Robert Van de Noort, from his foreword to the AdvanceHE/Hepi Student Academic Experience Survey 2019, on how a cut to tuition fees would affect universities.
Beating cholesterol: The Mirror mention Reading research showing fruits can help reduce cholesterol in a list of foods that can boost health.
Other coverage
Dazed Digital quotes Professor Jane Setter (English Language and Linguistics) on a tone of voice used by a woman on the reality TV show Love is Blind.
A repeat of Countryfile on BBC Two featured Professor Martin Bell (Archaeology) investigating human footprints dating back thousands of years in the Severn Estuary in Goldcliff.
Somerset County Gazette and South West Farmer report on an appeal to collect rat and mouse tail samples for research into resistance to poison.
Wokingham Paper reports on the University's decision to source its electronic products sustainably through a scheme called Electronics Watch.
Environment Journal republishes an article by the environment editor at The Conversation, which quotes Professor Hannah Cloke (GES and Meteorology) on how the world can adapt to flooding.