Reading in the news - Mon 9 Mar
10 March 2020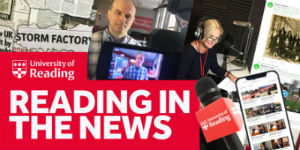 Covid-19:
- Dr Simon Clarke (Biological Sciences) was interviewed on Sky News, LBC News, BBC Radio Berkshire, and is also quoted in Yahoo! News and by Heart Berkshire.
- Sunday Times, Telegraph, Herald Sun and other titles quotes Prof Ian Jones (Biological Sciences) about questions over whether there is more than one strain of the novel Coronavirus.
- Dr Al Edwards (Pharmacy) spoke to Sky News following the news that the first death of a patient diagnosed with Covid-19 in the UK happened at the Royal Berkshire Hospital in Reading.
Research funding and tuition: Vice Chancellor Prof Robert Van De Noort is quoted in an article for iNews about UK university research being underfunded, and needing to rely on international tuition fees.
Women in Business: Prof Rosa Freedman (Law) spoke to Euronews about new UK migration laws and how they may disproportionately target women. In addition, the FT report on the benefits of a 'side hustle' in a series on women in business.
Other coverage
Times Higher Education report on calls for the Malaysian university system and South China Morning Post have an article about Johor Bahru, and mention UoR Malaysia.
Prof Mark Fellowes (Biological Sciences) is quoted in an article for New Scientist about gull behaviour.
Prof Bryan Cheyette (English Literature) writes for Times Higher Education reviewing a book comparing persecution under Hitler and Stalin.
Museums Journal writes about changes to museum labelling, and quotes Ollie Douglas (MERL) about its recent revamp.
Further coverage of a talk at UoR by female sporting figures for International Women's Day, in Reading Chronicle and Reading Football Club.
The Breeze covered news that Sir Kenneth Branagh has financially supported the independent Reading Film Theatre based in the Minghella Building on Whiteknights Campus.
UoR graduate Bubbles Putnam makes a list of 50 high achieving Plymouth-based women, in Plymouth Herald.