Reading in the news - Wed 11 Mar
11 March 2020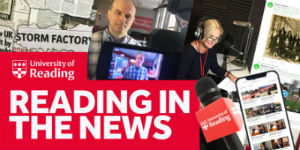 COVID-19:
Prof Marina Della Giusta (Economics) is quoted in Mail Online, ITV News site, MSN, Telegraph's live blog and local papers on the Italian Government response to Covid-19.
Dr Simon Clarke (Biological Sciences) spoke to Al Jazeera, France 24, BBC 5 Live, and LBC London on how effective containment measures could be, and is quoted in articles for CNN International, Guardian, Yahoo! News, Telegraph and Medscape.
Dr Al Edwards (Pharmacy) spoke to ITV This Morning, and Channel 4 News answering questions about Covid-19.
GetReading quote Dr James Reade (Economics) about the potential impact of Covid-19 on lower league football finances.
Climate emergency: Prof Hannah Cloke (GES) spoke to ITV News at Ten after the UN warns that climate change is a bigger global threat than Covid-19 and how the UK can manage rising sea levels.
Student finance: Mail Online report on how university graduates may be able to save money on student loans if the Retail Price Index is scrapped, and includes a mention of a UoR graduate who is working for the NHS in Berkshire.
Other coverage
Raspberry PI report on UoR team who developed an open source lab robot to make antimicrobial testing quicker and cheaper. Dr Al Edwards (Pharmacy) is quoted.
Lisa Jeffries, Director of Procurement, was interviewed on BBC Radio Berkshire's Sunday morning faith show (1 hour 22 mins in) about the University's recent commitment to sourcing ethical electronics. Read our news story here.
Local Berkshire report on a youth climate conference, and note that UoR PhD researchers Africa Bauza Garcia-Arcicollar and Alex McLaughlin will be speaking at the event.
Further coverage about how apples can help reduce cholesterol in the Daily Express.
The Dairy Site report on genome editing in agriculture, and interviewed former UoR Agriculture researcher Diane Wray-Cahen.

A repeat of Great British Railway Journeys on BBC 2 includes a discussion about the role Reading as a town played in improving adult education, and the show visited the London Road campus.

Company News HQ repost comments by PhD researcher Drew Price about protein and protein supplements.