Reading in the news - Thu 12 Mar
12 March 2020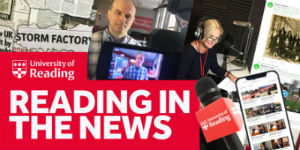 Covid-19:
Budget - flooding spend: Prof Hannah Cloke (Geography) was quoted in The Guardian and The Times (£) following yesterday's Budget, which confirmed an increase in spending to repair and improve the UK's flood defences. The article is reproduced on Yahoo News.
Ethical Recruitment Charter: Prof Emma Borg (Philosophy) spoke to BBC Radio Berkshire about the new charter the University has helped create, which aims to protect job seekers in the town from unfair recruitment practices.
Other coverage
Dr Simon Clarke (Biomedical Sciences) was featured on Channel Five demonstrating the bugs that can be found in reusable water bottles.
Emeritus Professor of Philosophy John Cottingham has written a piece for Aeon exploring the soul.
Prof Gail Marshall (Literature and Languages) has written a book review for Times Higher Education.