Reading in the news - Fri 13 Mar
13 March 2020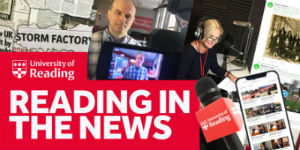 COVID-19:
<!--[if !supportLists]-->- <!--[endif]-->Dr Simon Clarke (Biological Sciences) was interviewed on Sky News (and again later in its news hour) and on BBC Radio 5 Live ahead of Thursday evening's government announcement on new measures to delay the spread of the coronavirus. He is also quoted on ITV.com in an explainer of how the virus affects people, in the New Zealand Herald, and in the Times on fake cures being circulated and a Q&A video is published by the Reading Chronicle. See our original Q&A video here.
<!--[if !supportLists]-->- <!--[endif]-->Dr Al Edwards (Pharmacy) is quoted by Mail Online on the government's announcement on Thursday evening, and by Yahoo News, on effective ways to wash your hands.
<!--[if !supportLists]-->- <!--[endif]-->Professor Ian Jones (Biological Sciences) is quoted by NBC, the Times on how COVID-19 is tested for, and by Mail Online and Tech Times on the continued claims the virus is from space.
<!--[if !supportLists]-->- <!--[endif]-->Professor Marina Della Giusta (Economics) is quoted by Huffington Post and Yahoo News on the similarities between the UK and Italy in terms of how the virus might spread. Read our expert comment round-up concerning developments in Italy from earlier in the week here.
Budget flood funding: The Times quotes Professor Hannah Cloke (GES and Meteorology) on the funding announced for flood defences in the Spring Budget.
Other coverage
Phys.org reports on a study led by Professor Ed Hawkins (Meteorology) into how climate change impacts in the UK are being masked by its erratic weather.
The Amed Post quotes Dr Peter Inness (Meteorology) on rising temperatures globally.
Ghana Web reports on opportunities being provided for Ghana filmmakers, through a programme jointly run by Henley Business School.
Medical News Today mentions Professor Jane Parker's (Food and Nutritional Sciences) expertise in the science of smell, in article about anosmia – a condition that affects people's sense of smell.
The University of Southampton student newspaper, The Wessex Scene, mentions a text being flagged at Reading under PREVENT guidance in an article on instances around the country.