Reading in the news: Mon 16 Mar
16 March 2020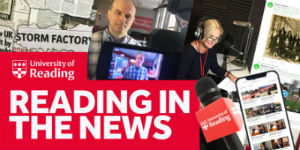 COVID-19:
Dr Simon Clarke (Biological Sciences) appeared several times on Sky News to talk about the Government announcement of a move to phase two of a plan to deal with Covid-19. Dr Clarke also joined a panel of experts on Sky News' a week in interviews, LBC, BBC Berkshire answering listeners questions, and on the Breeze FM.
Dr Rachel McCloy (Psychology) writes for New Scientist about the science of dealing with uncertainty, and how to "worry better".
Visiting Associate Professor Ben Neuman (Biological Sciences) answered listeners questions on talkRADIO.
New Scientist quotes Professor Ian Jones (Biological Sciences) about natural genetic diversity in cases of Covid-19.
Dr James Reade (Economics) spoke to BBC News Channel about the effect that postponing the English Football League will have on club finances. Dr Reade's interview also aired on BBC Radio 2 and local BBC radio stations.
People Management quote Prof Nada Kakabadse (Henley Business School) about business continuity planning in UK businesses to cope with Covid-19.
Guardian awards: The University of Reading has had two projects shortlisted in the 2020 Guardian awards, in the categories of Research Impact and Marketing and comms campaign.
Populism: The Atlantic write about populism and the struggle to define it, and quotes Dr Daphne Halikiopoulou (Politics and IR).
Other coverage
Dr David Rose (Agriculture) spoke to BBC Radio 4's Farming Today about the Agriculture bill making its way through the UK Parliament at the moment.
Times Educational Supplement looks at curiosity for subjects in children, and quotes Dr Kou Muruyama (Psychology).
An obituary in the Daily Telegraph for Lieutenant Commander John Manners notes that his photography and research files on countryside life are held at the Museum of English Rural Life.
BBC Sheffield (and other Yorkshire stations) spoke to Prof Paul Williams (Met) about the weather on Mount Everest.
Prof Gail Marshall (Literature and Languages) writes for THE to review a book about self-help guidance in modern literature.
A Telegraph article about the changing leadership in European banks notes that UoR graduate Marianne Lake is a contender for the role of CEO at JP Morgan.
Sunday Times writes that UoR German and Economics graduate Dame Alison Carnwath has won a lifetime achievement gong at the Non-Executive Director of the Year Awards 2020.