Reading in the news - Tue 17 Mar
17 March 2020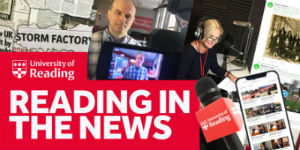 COVID-19:
<!--[if !supportLists]-->- <!--[endif]-->Professor Ian Jones (Biological Sciences) is quoted on the suggestion that ibuprofen can limit the body's response to the coronavirus in the Guardian, Telegraph, Daily Mail, Yahoo News and more than 100 regional news titles.
<!--[if !supportLists]-->- <!--[endif]-->Dr Simon Clarke (Biological Sciences) was interviewed throughout the day on Sky News (clip 1, clip 2, clip 3) and quoted by Yahoo News.
<!--[if !supportLists]-->- <!--[endif]-->The Reading Chronicle, Wokingham Paper and The Breeze report on the University of Reading's decision to move teaching online. BBC Radio Berkshire discussed the University's decision to remain open this week and subsequently its decision to move teaching online.
Soil investment: Professor Chris Collins (GES) is quoted by BBC News Online on the lack of monitoring of soils in England.
Other coverage
BBC Radio Berkshire mentioned the University's involvement in Ethical Reading and its contribution to the Ethical Recruitment Charter to encourage fair employment practice by Reading businesses.
The History Extra podcast mentions the University of Reading's involvement in a project to mark the 70th anniversary of the Dunkirk evacuation.
The Oxford Mail and other local titles report on Reading graduate and singer Jamie Cullum cancelling his Oxford show.
BBC Radio Lincolnshire played clips from a recent interview with Professor Paul Williams (Meteorology) on the record fastest transatlantic flight during Storm Ciara.
The Henley Standard report on a new development proposal on land owned by the University.