Reading in the news - Weds 18 Mar
18 March 2020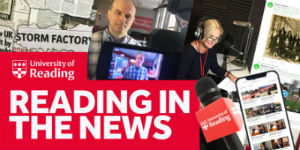 COVID-19:
Dr Simon Clarke (Biological Sciences) appeared on Sky News through the afternoon to comment on select committee hearings and press conferences from the UK Prime Minister and US President on the response to the Covid-19 response in the UK. Dr Clarke is also quoted in articles for Sky News online, AOL, and BBC Berkshire noted that they will be putting more listener questions to Dr Clarke.
Further coverage of comments by Professor Ian Jones (Biological Sciences) is quoted on the suggestion that ibuprofen can limit the body's response to the coronavirus in Sky News online, Mail Online, Metro, Mirror, The Sun, IFL Science and GetReading.
Dr Al Edwards (Pharmacy) spoke to ABC News Australia about the development of a vaccine.
BBC News online quotes Professor Parastou Donyai (Pharmacy) about ibuprofen and Covid-19.
An announcement that the claret 21a bus will not be running due to UoR's move to online teaching from today (Weds 18 March) is covered on GetReading.
<!--[if !supportLists]-->

Social value in buildings: Prof Flora Samuel (Architecture) writes for Building Design about the growing requirement for metrics to assess social value in the built environment.

The Bard: BBC Radio Berkshire spoke to Prof Grace Ioppolo (English Literature) about Shakespeare week which is this week.

Other coverage
British Dairying further mention a call by the campaign for responsible rodenticide for samples for their work, and mentions UoR's Vertebrate Pests Unit.