Reading in the news - Thu 19 Mar
19 March 2020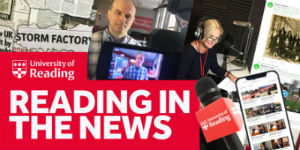 COVID-19:
Dr Simon Clarke (Bio Sci) featured on:
BBC Radio Berkshire taking listeners' questions about coronavirus
Sky News about the sharp rise in diagnosed cases in the UK
Sky News about the announcement to close schools
The Herald Scotland about the myth that zinc 'lozenges' can block the coronavirus from spreading in the respiratory system
The Telegraph (and online) about a new antibody test which is being developed
Various local radio stations, including Jack FM, about why the outbreak is worse in London
Professor Ian Jones (Bio Sci) is quoted by:
Newsweek in a piece about whether people can catch the virus twice.
The Times in an article about deep-cleaning and fumigation to tackle the spread of the virus
Professor Patricia Riddell (Psychology) spoke to German broadcaster Deutsche Welle about the psychological impact of self-isolation and social distancing.
Dr James Reade (Economics) spoke to Sky Sports News about the postponement of Euro 2020 and the economic impact of cancelled and postponed sporting fixtures.
Professor Helen Bilton (Education) spoke to BBC Radio Berkshire about the announcement that all schools in the UK are due to close from Friday.
Kathryn Whittington (Admissions) is quoted in a piece by the TES on the impact of delayed exams on university admissions.
Professor Parastou Donyai (Pharmacy) is quoted by the BBC and regional press including the Liverpool Echo in a piece about the ineffectiveness of ibroprufen in treating patients with the virus. Visiting associate professor Dr Ben Neuman (Bio Sci) is also quoted in a piece by the Daily Mail.
BBC Radio Berkshire mentions the University in a bulletin about the suspension of the Reading Buses 21a services, which serves the Whiteknights campus.
BBC Radio 4 mentions Professor Ed Hawkins' call for volunteers who may be self-isolating to help input historic weather data into his Weather Rescue project.
Climate change: Professor Tom Oliver is interviewed in a piece by Environmental Journal about his new book, 'The Self Delusion: How You Are Connected to Everyone Else and Why That Matters'.
Other coverage
BBC Radio York replayed an interview with Professor Paul Williams (Met) about the record-breaking New York to London flight which happened due to the jet stream.
The Sussex Newspaper mentions a study by the University which shows that increasing magnesium levels can improve the duration and quality of sleep.
Berkshire Life runs a story about the announcement that Blackhall Studios could be coming to the Thames Valley Science Park. Read our news story here.