Coronavirus: how Reading is helping fight Covid-19
19 March 2020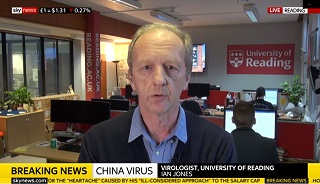 Experts at the University of Reading are helping in the response to the Covid-19 coronavirus outbreak by applying their skills and knowledge to fight the disease and its impacts.
The University is also responding with regular updates to students, staff and visitors about how teaching, assessments, events and other activities are affected. The latest information and updates are available via the website: www.reading.ac.uk/coronavirus
People looking for the full range of UK government advice should read the latest information online at www.nhs.uk/coronavirus
Scientists at Reading are contributing to a range of rapid measures to contribute to the 'Research' strand of the UK response to Covid-19.
Professor Robert Van de Noort, Vice-Chancellor, said: "I am always proud to be part of the University of Reading community, but no more so when we are all working together to meet a serious challenge facing society such as Covid-19.
"It is vital that everyone contributes to this worldwide effort, and as a University we have a key responsibility to step up and help use our strengths, including our knowledge, research and communication capabilities, to help wider society."
Vaccine development
Professor Ian Jones, virologist in the School of Biological Sciences, has worked on previous coronaviruses, including SARS and MERS.
He and colleagues in his laboratory, including virologist Dr Sophie Jegouic, are now working to examine synthetic versions of the virus protein, which may help in the global efforts to understand the virus to provide better diagnostic testing and develop trial vaccines.
Reviewing scientific response
Along with other leading scientists, Professor Jones has reviewed dozens of rapid-response scientific articles, sharing the latest scientific data and research into the coronavirus with scientists globally. These publications are helping to spread the latest intelligence on how the virus infects people and helping efforts to find treatments and vaccines.
Professor Jones is helping to review more than 100 scientific bids to the Medical Research Council (MRC) - two of which involve Reading scientists. This week, the MRC will allocate around £20 million of emergency government funding to help scientists ramp up their research into the disease.
Diagnostic testing
One project involves Dr Al Edwards, from the Reading School of Pharmacy, whose work on technology to provide rapid diagnostic testing could help to show who has had the disease in the past - not just those who are ill now.
The technology has already been developed and applied to quickly diagnose other illnesses and conditions, including West Nile Fever and heart attacks.
Providing accurate information
Academics from across the University have contributed to the widespread demand for evidence-based information through the media, on a range of topics related to coronavirus and its effects on society around the world. The University of Reading's press office, and Reading scientists working with the independent Science Media Centre, have received hundreds of requests from journalists and broadcasters, asking for interviews, guidance and quotes in response to the latest developments.
Among those providing comment from Reading are: