Reading in the news - Mon 23 Mar
23 March 2020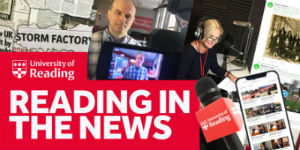 COVID-19:
- University of Reading Vice-Chancellor Professor Robert Van de Noort spoke to BBC Radio Berkshire about how teaching and exams will be adapted to cope with the coronavirus.
- Dr Simon Clarke (Biological Sciences) spoke to Sky News (and again after Friday's evening news conference and on Saturday), LBC Radio, answered listeners' questions on BBC Radio Berkshire, and was part of an expert panel on BBC Radio 5 Live. He is quoted in a Q&A in the Times, Mail on Sunday, the Independent, Yahoo News and Breitbart. Watch our social media video here.
- Dr Al Edwards (Pharmacy) was interviewed on CNN (and again on Sunday) and as part of an expert panel on Al Jazeera. He is quoted in the Daily Telegraph, and another Q&A in the Mail on Sunday.
- Professor Ian Jones (Biological Sciences) is quoted in the Times on a trial of an anti-malarial drug on the COVID-19 virus and by National Interest on the back of his comments to New Scientist.
- Professor Helen Bilton (IoE) answered listener questions on home schooling on BBC Radio 5 Live. Watch our social media video here.
- Professor Parastou Donyai (Pharmacy) is quoted in the Irish Daily Mail on reports about ibuprofen worsening coronavirus symptoms.
- Professor Marina Della Giusta (Economics) is quoted by Coventry Live on the public response to isolation measures in Italy.
- Dr Sakthi Vaiyapuri (Pharmacy) is quoted by Medical News Today on whether people with certain blood types are more likely ot get COVID-19.
Royal family: CNN publishes an article by Professor Kate Williams (History) on attitudes towards divorce within the royal family.
Climate change impacts: The Guardian and Yahoo News report on a new study by Professor Ed Hawkins (Meteorology), showing the impacts of climate change are less noticeable in the UK due to its erratic weather. Read our news story.
Other coverage
Friday Magazine quotes Dr Julia Vogt (Psychology) on her research showing pursuing happiness too hard can prevent us from finding it. Read our news story.
Mail Online mentions a visit by former House of Commons Speaker John Bercow to the University of Reading, where he told students he voted Remain in the EU Referendum, in an article on a new biography on Bercow. Read our news story on the visit.
Yorkshire Evening Post publishes an appeal by PhD student Emily Perison-Webber for accounts of men's experiences in the British mining industry.
Best Walks with a View on ITV mentioned some tools held at the Museum of English Rural Life and how they inspired a man to keep the practice of making them alive.
Get Reading mentions the University moving teaching online in an article on coronavirus developments in Berkshire. Read our message to staff.
Oxford Mail and The Herald reports on funding being removed for a leisure centre scheme in Didcot, on land partly owned by the University.