Reading in the news - Wed 25 Mar
25 March 2020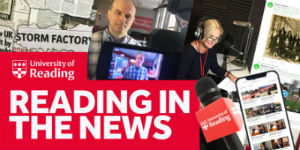 COVID-19:
Read more of our expert comments on our news site.
New Thinking: Amy Butt (Architecture) joined the BBC New Thinking podcast run in conjunction with AHRC. Butt spoke about how science fiction extends beyond literature into other disciplines including the built environment.
Other coverage
The Psychologist have published a piece by Tim Anstiss and Jonathan Passmore (Henley Business School) on the topic of compassion.
An obituary for Jessica Houdret, an author and film maker on herbs and their uses, is published by the Daily Telegraph. Houdret studied English Literature at UoR as a mature student.