Reading in the news - Thu 26 Mar
26 March 2020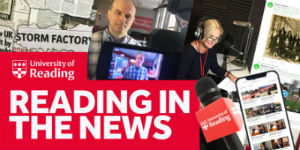 COVID-19:
Air pollution: Comment from Prof Bill Collins (Met) on air pollution in the capital reducing is featured in Mail Online.
Rainfall rescue project: Prof Ed Hawkins has today launched the Rainfall Rescue project, which is asking citizen scientists to help digitise rainfall data from the last 200 years. The project launch has seen coverage in BBC South, BBC online, Guardian, ITV.com, Mail Online, The I (print), The Times (print), Yahoo News, Irish Examiner, The Scotsman (print also) and local news outlets across the UK. Read our news story here.
Other coverage
Prof Arlene Astell (Psychology) is quoted in a BBC Online article on how artificial intelligence is helping the elderly combat loneliness.
A Telegraph (print) article on productive working environments cites a study by Prof Derek Clements-Croome (SCME), which found that there is a clear relationship between indoor air pollution and human productivity.
An obituary in The Telegraph for author and herb expert Jessica Houdret mentions that she did a degree in English Literature at Reading as a mature student.