Computer game characters get vintage farming outfits after museum's challenge
30 March 2020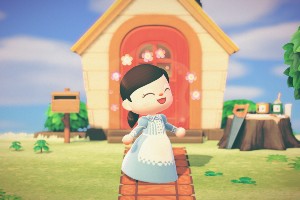 Video gamers have responded to a challenge set by the Museum of English Rural Life (The MERL) to dress their virtual characters in historic farming outfits.
The museum took to Twitter last week to call on Nintendo gamers who bought the recently-released Animal Crossing to create smocks inspired by those in its collections for their customisable characters.
The result was gamers, including real-life artists and costume designers, coming out in force to share images of their smock designs on social media. The MERL, based at the University of Reading, will include the best ones in an upcoming online gallery.
Joe Vaughan, Digital Editor at The MERL, said: "It's been incredible to see people engaging so creatively with our collections, and really demonstrates the opportunities presented by digital technology for bringing our heritage to life.
"Demonstrating the contemporary relevance of rural history is a major part of our mission at The MERL, and there will be lots more content to access online over the coming weeks."
Smocks were long sleeved garments, often intricately stitched with colourful patterns, historically worn by agricultural workers to keep their clothes clean. They fell out of favour by the 20th century, but elements of their design continue to be used in dresses and tops today.
The MERL is home to the largest collection of smocks anywhere in the world. The 63 smocks are part of a vast array of some of the earliest and best-surviving objects relating to English farming and countryside as far back as 1750.
The virtual smock display will add to the online exhibitions hosted by The MERL. These will be especially important in satisfying the appetites of farming fans in the coming weeks after the museum was forced to close its doors a week ago due to the ongoing COVID-19 crisis.
Museum staff and archivists will also be delivering elements of the events and activities planned for the next few months in a digital way, including educational materials for young people who are currently unable to attend school.
The MERL has gained notoriety for using social media to use its collections of images and objects to comment on current trends and news headlines, including this tweet from last week. In 2018, a meme tweeted using a photo of an Exmoor Horn ram, and subsequent humorous posts, catapulted the museum to global fame and the attention of Elon Musk, JK Rowling and others.
Image caption: One of the many smocks submitted by gamers on Twitter. Credit @kiitanni