Reading in the news - Tue 31 Mar
31 March 2020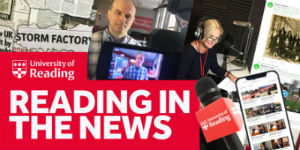 COVID-19:
<!--[if !supportLists]-->- <!--[endif]-->Dr Simon Clarke (Biological Sciences) was interviewed on Sky News about whether people can catch the coronavirus via their mail or shopping deliveries (and later in the afternoon and again following the evening press conference), quoted in a written Sky News online article and on several commercial radio stations including LBC, Yahoo News, Metro and Amed Post, appeared on a Telegraph podcast and Evening Standard podcast, and wrote and op-ed for the Evening Standard. Read our published expert comment.
<!--[if !supportLists]-->- <!--[endif]-->Professor Ian Jones (Biological Sciences) is quoted in the Times on vaccine development.
<!--[if !supportLists]-->- <!--[endif]-->Daily Hunt and scroll.in republish an article written for The Conversation by Dr James Reade and Dr Carl Singleton (Economics) on how the football season can return following its suspension due to the virus. Read our expert comment from Professor Adrian Bell (Research Dean for Prosperity and Resilience) on the impact on the football season.
<!--[if !supportLists]-->- <!--[endif]-->Read our news story on how media engagement by Reading academics has helped keep the public informed during the crisis.
MERL tweets: Gaming titles Polygon and Eurogamer report on Animal Crossing players creating virtual smocks inspired by The MERL's collections for their characters. Read our news story.
A BBC Online video exploring memes as a cultural phenomenon also includes The MERL's 'absolute unit' tweet from 2018 in its top five. Read our blog from 2018.
Citizen science: Bloomberg and Yahoo News report on the citizen science Rainfall Rescue project led by Professor Ed Hawkins (Meteorology) which the public can contribute to while in isolation. Read our news story.
The Times also featured a separate citizen science project asking people to boil their kettles to test the effect of high atmospheric pressure on the boiling point of water. Read our news story and Twitter thread.
Other coverage
A new BBC One programme called UK Healthcheck Live used a piece featuring Professor Gunter Kuhnle (Food and Nutritional Sciences) that aired recently on The Truth About Takeaways.
Kompas mentions a Reading study (Psychology) on the bond between boys and their mothers and the problems this can cause.