Reading in the News - Fri 1 May
01 May 2020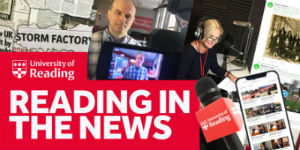 COVID-19:
Dr Simon Clarke (Bio Sci)'s comments about whether children are more susceptible to the virus than first thought were quoted on Good Morning Britain, in The Times, Times Education Supplement, and The Daily Mail; he was also quoted by The Sun about the effectiveness of face masks; and in the Daily Star about the approval of antibody tests; and he appeared on TalkRadio to talk about the latest developments.
Professor Ian Jones (Bio Sci) is quoted in a piece by The Times about whether female sex hormones could hold clues to the coronavirus outbreak. He is also quoted by the Daily Mail in an article about whether Covid-19 causes blood clots in the lungs; and in an article by The Telegraph on the apparent low death rate in Pakistan.
Dr Al Edwards (Pharmacy) spoke to BBC Radio Berkshire about the challenges of mass testing.
A video featuring Mark Collett (DTS) delivering donated webcams to the Royal Berkshire Hospital is included in an article by the Reading Chronicle. Read our news story about the donation here.
BBC Radio Berkshire features news of a new online course developed by the department of Psychology to help young people manage their low mood and depression whilst in lockdown. To find out more, click here.
Boarding Schools Association reports on the partnership between the University and neighbouring Leighton Park School to create head bands for face shields using laser cutters.
#LockdownClimateChange: See the latest expert comment in our #LockdownClimateChange campaign, discussing how we can learn lessons from the COVID-19 lockdown to help us tackle climate change – https://archive.reading.ac.uk/2020/May/pr840668.html
Responding to a pandemic: The Guardian cover different ways that humanity has responded to pandemics through history, and Prof Adrian Bell (ICMA) is quoted about the reaction to the Black Death in the mid-14th century. Prof Bell and Prof Chris Brooks (Henley) write for LSE's British Politics and Policy blog on how Covid-19 will change consumerism.
Greek mythology: Professor Amy Smith (Classics) spoke to BBC Radio Berkshire about Greek archaeology, mythology and history as part of the station's Lunchtime Lessons series.
Crazy Beasts: Dr Jo Baker (Ecology and Evolutionary Biology) spoke to BBC Radio Berkshire about the newly-discovered mammal fossils in Madagascar which belong to a bizarre creature dubbed a 'crazy beast'.
Other coverage
Research by Dr Ken Dark (Archaeology) is mentioned in an article by Church Times about whether human manure could hold clues to Jesus's life in Nazareth.
Professor Glenn Gibson (Food) is mentioned in an article by Food Navigator about probiotics.
The New York Times mentions Professor Kate Williams (History) in a review of a documentary entitled 'Capital in the Twenty-First Century' by Justin Pemberton, in which Prof. Williams features.
LivingReading mentions the University in an article about funding available for online arts and culture projects.
Professor Chris Scott (Met) spoke to BBC Radio Berkshire about the amount of space rocks, including asteroids, fall to Earth every year.