Reading in the news - Mon 4 May
04 May 2020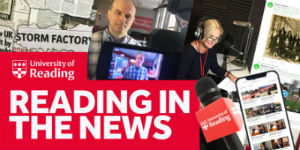 COVID-19:
Dr Simon Clarke (Biological Sciences) is quoted in the Sun and Independent about research on COVID-19 and children, and spoke to Sky News and LBC.
Mail Online quote Dr Dyan Sellayah (Biological Sciences) about a potential relationship between obesity and COVID-19.
Prof Gary Stephens (Pharmacy) is quoted in an article for Understanding Animal Research about using llama antibodies in the development of treatments and vaccines.
GetReading reports on the partnership between the University and neighbouring Leighton Park School to create head bands for face shields using laser cutters.
Dr Rohan Deb Roy (History) is further quoted in Ozy.com about hydrochloroquine and colonialism.
Business First Online repost Prof Uma Kambhampati's (Economics) article in the Conversation about global supply chains.
Reading East MP Matt Rodda writes for the Reading Chronicle about local responses, and notes testing carried out by Berkshire Healthcare FT on the Whiteknights Campus at Erlegh House.
The Vindicator report on visiting research fellow Dr Ben Neumann (Biological Sciences) who was involved in naming COVID-19.
Championship predictions: BBC Sport spoke to Dr James Reade (Economics) about a model for predicting football results and a forecasted final table for the English Championship. The predictions were also covered in Wales Online and Leeds Live.
US v China: Prof Rajneesh Narula (Henley Business School) is quoted in an article for Axios about the difference in US-Sino relations in responding to Covid-19, with scientists cooperating and politicians fighting.
Other coverage
BBC Berkshire cover the launch of a new website for UoR's museums. Read about the new site here.
Devon 24/7 report on a petition for the University of Plymouth to improve ethical buying, and notes UoR has recently joined electronics watch to avoid modern day slavery in the tech industry.