Reading in the news - Tue 5 May
05 May 2020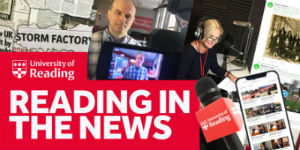 COVID-19:
<!--[if !supportLists]-->- <!--[endif]-->Dr Simon Clarke (Biological Sciences) spoke to TALKradio about testing and the development of a vaccine for the coronavirus. He is quoted by the Guardian, Independent, MSN News and a Daily Mirror medical column on facemasks; and Newsweek, Mail Online, the Express and Tech Times on potential treatments.
<!--[if !supportLists]-->- <!--[endif]-->Dr Shovonlal Roy (GES) is quoted by the Daily Mail on the pros and cons of a herd immunity approach.
<!--[if !supportLists]-->- <!--[endif]-->Dr Dyan Sellayah (Biological Sciences) is quoted by Mail Online and Business Telegraph on who is most at risk from the virus.
Future irrigation: A study co-authored by Samuele Lo Piano (Built Environment) on the area of irrigated land in the future being underestimated is published by EurekAlert and Phys.org.
Other coverage
Professor Giles Harrison (Meteorology) is quoted by EOS, a publication by the journal AGU, on the history of measuring the electric charge that surrounds the Earth.
Dr Monika Parkinson (Psychology) spoke to BBC Radio Berkshire and The Breeze FM about a new course helping young people with their mental health during lockdown. Read our news story.
A repeat of Food Unwrapped on More4 featured Dr Ben Neuman (formerly Biological Sciences) and Dr Alistair Culham (Biological Sciences) looking at the antiviral properties of bananas.