#WeAreTogether: Laser-cutting plastic masks for NHS heroes
05 May 2020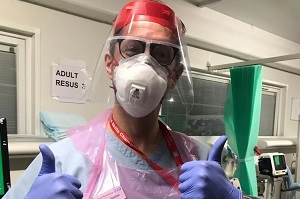 Technicians at the University of Reading have helped a group of local schools who have produced more than 20,000 face masks to protect NHS staff and others on the frontline of COVID-19.
The team from the University of Reading has become a major partner with a consortium of Berkshire schools, led by Leighton Park School in Reading. Technical staff have been using two large laser cutters to quickly produce head bands for the shields in large numbers.
Nigel White, Associate Director of Technical Services at the University of Reading, said:
"We are delighted to join the partnership set up by Leighton Park to produce the face shields. The laser cutters at our campus have helped to speed up the production for a growing demand for protective equipment from care homes and hospices, as well as healthcare workers."
The University of Reading joined the operation started by Leighton Park which has become the centre of a local face shield manufacturing operation after establishing a network of 19 manufacturing partners to increase capacity. The consortium has been providing face shields to 79 organisations at the frontline of the COVID-19 response, including eight hospitals and 18 GP surgeries.
Mark Smith, Head of Design & Technology at Leighton Park, said: "Not every superhero wears a cape, but they do all wear masks!
"It's testament to the team how everyone has done their bit to make it happen. If it was just a one-man-band, like I started with, we would be producing tiny numbers. It's such a community effort. I think everyone wants to play a part where they can."
Seona Douglas, Executive Director of Social Care and Health for Reading Borough Council, said: "Fantastic contribution you are making to my staff in RBC working on the front line. I am so grateful for your contribution. Thank you so much to Helena Olmos, one of the PAs in Adult Social Care, who saw this on Facebook. Thank you, thank you, thank you."
Gareth Williams is the Chief Commercial Officer at Choice Care Group, a provider of specialist care in 63 residential care homes and 23 supported living homes, which have been sent some of the face shields.
He said: "With a frontline staff of 1,500 across the south of England, we were extremely grateful to receive 1,600 face shields. This gave us enough shields for one shield per staff member, plus some cover for new staff as we continue to grow.
The local community support shown across this pandemic has been second to none
"With everyone getting their own shield and with each of the shields being re-usable post sterilisation, this significantly reduces the risk of cross-contamination and is a fantastic addition to our armoury in the fight against coronavirus. The local community support shown across this pandemic has been second to none and with the government facing their own PPE struggles, it's been amazing that Leighton Park School has been able to supply these critical goods for us."
Sixteen schools have joined the partnership, as well as the University of Reading and two local businesses outside the education sector, Neal's Export Packaging Ltd, in Silchester, and rLAB, a community workshop space. School partners include Denefield School, Edgbarrow School, Prospect School, Reading Blue Coats, Shiplake College, Holme Grange School, The Forest School, Brackenhale School, Waingels College, The Bulmershe School, Luckley House, Warriner School, Little Heath, Ranelagh and St Joseph's College.
The partnership is fundraising to help produce more face shields – to support it, please visit the GoFundMe page: bit.ly/LP4NHS.
Image credit: Andrew Haydon, 2020.