Reading in the news - Wed 6 May
06 May 2020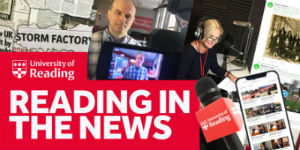 COVID-19:
Reducing anti-social behaviour: GetReading report on a joint letter between UoR and RUSU expressing concerns for a local festival for students in Palmer Park. The article notes that UoR has been running a street marshal scheme, and quotes from the letter signed by Community Relations manager Sarah Gardner and RUSU President Molli Cleaver.
Nature and lockdown: ABC Radio's Counterpoint programme interviewed Prof Mark Fellowes (Biological Sciences) on engaging with nature while under lockdown.
Other coverage
<!--[if !supportLists]-->· <!--[endif]-->HR Grapevine discuss the 'side hustle' in a podcast, and mention Henley Business School's report on the topic.