Reading in the News - Thurs 7 May
07 May 2020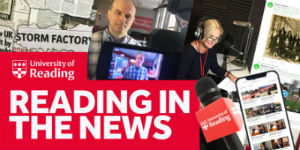 COVID-19:
Dr Simon Clarke (Bio Sci) spoke to BBC Radio Ulster about the effectiveness of face masks, and quoted by The Mirror on the same topic; he spoke to TalkRadio about how viruses mutate over time; is quoted in The I and Newsweek about claims the virus may have spread to Europe a month earlier than thought; spoke to CNN about whether American schools should reopen; and his comments to The Guardian are shared by Fox News.
Professor Ian Jones (Bio Sci) is quoted in a piece by The Guardian on less common coronavirus symptoms.
Dr Dyan Sellayah (Bio Sci)'s comments linking obesity to coronavirus are mentioned in an article by The Sun.
Dr Al Edwards (Pharmacy) is quoted in a piece by Science Focus on whether people should start wearing face masks. Dr Edwards is also quoted in a piece by the Huffington Post on antibody testing.
Professor Tim Dixon (Construction Management and Engineering) is quoted in an article by WalesOnline about how health protection could be built into the urban landscape.
Dr Mark Shanahan (Politics) spoke to BBC Radio Berkshire about former Prime Minister Theresa May's comments about the fight against Covid-19 becoming too national rather than international.
Professor James Reade (Economics) is quoted in a piece by the Carmarthen Journal about whether Cardiff City and Swansea City football teams would have missed out on promotion if the season had gone ahead.
#LockdownClimateChange: The University's #LockdownClimateChange campaign is featured in an article by Reading Midweek.
SmartWater: Professor Roger Matthews (Archaeology) and the University's project to protect priceless artefacts in Iraq against theft is featured in an article by MediaNet and Markets Insider. Read our original story here.
Filming in space: Professor Chris Scott (Met) spoke to BBC Radio Berkshire about news that actor Tom Cruise has asked for permission from NASA to film from the International Space Station.
Indoor Gardening: Dr Alastair Culham (Ecology) writes an article for Science Focus about how to grow plants indoors during lockdown.
Other coverage
The University is mentioned in an article by The Herald about an archaeological dig on the Isle of Islay, and the clues it could hold about ancient battles.
An interview with Dr Jo Baker (Ecology and Evolutionary Biology) about mammal fossils discovered in Madagascar was replayed by BBC Radio Berkshire.
Berkshire Live mentions the University and RUSU in an article about a licensing hearing for the proposed Stories in the Park music festival.
Economics student George appeared as a contestant on BBC quiz show Pointless.
MBA.co.za runs a piece on a new Post-Grad Diploma being launched by Henley Business School.
Leicestershire County Council mentions the University's Ladybird Books Archive in a piece about the iconic books.