Reading in the news - Mon 11 May
11 May 2020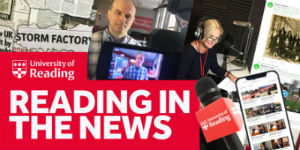 COVID-19:
Dr Simon Clarke (Biological Sciences) spoke to Sky News (and here), TalkRADIO and LBC following the Prime Minister's address to the nation on Sunday evening.
Dr Dyan Sellayah (Biological Sciences) is quoted in a BBC News Online article linking obesity to coronavirus.
Comments by Dr Al Edwards (Pharmacy) are included in articles for the Guardian on UK tests that have had to be shipped to the US for processing, and in Telegraph articles on the accuracy of tests (here) and about the difficulties with mass antibody testing (here).
CNN Online quotes Dr Katie Gray (Psychology) about the potential impact of face mask wearing due to the coronavirus and implications for security and communication.
Prof Ian Jones (Biological Sciences) is quoted in the Daily Mail about the relationship between Covid-19 and warm weather, and France 24 on virus mutation.
Telegraph run a letter from Visiting Professor David Richardson (Food) about the relationship between nutrition and the immune system.
Further coverage of comments by Dr James Reade (Economics) made to BBC Sport about the final league table positions for various clubs, reports Yorkshire Evening Post.
Prof Kate Williams (History) spoke to BBC Berkshire about HM the Queen's speech on Friday 9 May.
ITV Meridian reports on students and universities including UoR and how they are facing various challenges during lockdown. In addition, Nestia reports on the issues facing private universities in Malaysia, including UoRM, as a result of Covid-19.
News about a new study looking at loss of smell in Covid-19 patients was covered by BBC Berkshire and they spoke to Dr Jane Parker (Food) who is involved in the research. Read more about the research here.
Let the children play: The Guardian quotes Prof Helen Dodd (Psychology) about an open letter to the Department for Education by child psychology and education experts calling on play to be prioritised when schools are allowed to reopen. Prof Dodd also spoke to BBC Radio 4's World Tonight and the letter is mentioned in an article for the Express.
Executive education: Dean of Henley Business School Prof John Board is quoted in an article for the Financial Times on executive education and the risks and rewards of running courses in uncertain financial circumstances.
Other coverage
An obituary in the Guardian for Janet Carr, a psychologist who worked extensively with people with Down's syndrome, notes that Carr studied at UoR.
Irish Times quotes Prof Kou Muruyama (Psychology) about motivation and how to maintain it while working from home.
Prof Kate Williams (History) writes for iPaper (in print) about celebrating all nations who helped to win World War Two.
Farmers Guardian interviewed UoR business graduate and young farmer Jessica about her experience owning a milk processing company.
An article for the Conversation by a team of UoR Archaeologists looks at the idea of rewilding.
A blog which first appeared in the Conversation by PhD researcher Jacob Thomas-Llewellyn and Dr Vaughan Michell (Henley Business School) on inventive manufacture and World War Two, in the Independent.
BBC Berkshire spoke to UoR's Muslim chaplain Javed Kachhalia about Hajj and how Covid-19 has affected plans to take the pilgrimage.
Stephen Burt (Met) spoke to BBC Berkshire about the record breaking sunshine in April as part of a feature on looking after your garden.
IFST report on the finalists for the UK's student new food product competition including a team from UoR.
PhD researcher Meg Cathcart-James spoke to BBC Berkshire about a mascot competition that was running on Twitter, and the entry by UoR which was a model of an Ichthyosaur, an extinct marine reptile, called Kevin.
<!--[if !supportLists]-->