Reading in the news - Thu 14 May
14 May 2020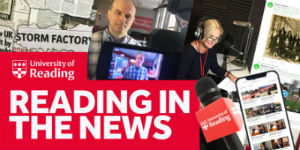 #WeAreTogether
#LockdownClimateChange
Dr Laura Wilcox (Meteorology) is quoted in the Guardian on reduced levels of pollution during the COVID-19 lockdown potentially changing the weather. Read our news story.
COVID-19
Dr Simon Clarke (Biological Sciences) was interviewed by LBC Radio (and here) on the government's testing strategy and children returning to school.
Nuclear bomb rainfall: Extensive international coverage of a new study showing Cold War nuclear bomb tests may have increased rainfall around the world, including by the Guardian, Financial Times (£), Mail Online, The Times, Mirror, Metro, IFL Science, Newsweek, iNews print edition, Gizmodo, Science Magazine, Sky News Online, LBC Online, Heart FM Online, Planet Rock Radio Online, The National, Phys.org, the Express, Science Daily, Newswise, MSN News, Yahoo News, plus publications around Europe including Svenska Dagbladet, Aftonbladet, Hallands Nyheter, Ystads Allehanda.
Professor Giles Harrison (Meteorology) was interviewed on BBC Radio Berkshire, and Dr Graeme Marlton (Meteorology) was interviewed on BBC South television. Read our news story here.
Other coverage
Further international coverage of the Archaeology project helping protect artefacts in Iraqi museums by Trade Arabia, Malaysia news site Ering, thaipr.net and Korean websites Naver and yna.
House Beautiful mentions Reading research on giant hogweed, after it was reported to be becoming more abundant due ot the recent warm weather.
Reading Chronicle includes the Harris Garden on the Whiteknights campus as one of the top local places to visit after lockdown ends.
<!--[if !supportLists]-->