Reading in the News - Fri 15 May
15 May 2020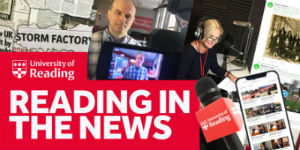 COVID-19:
Dr Simon Clarke (Bio Sci) is featured on LBC , TalkRadio, BBC Radio Ulster, Heart and Capital about the new antibody test; Dr Clarke is also quoted by BBC Radio Ulster about the possibility of schools reopening; he spoke to Huffington Post about how easily the virus can be spread within eating establishments; and is quoted in a piece by The Times about whether children and adults have the same chance of falling ill.
Dr Al Edwards (Pharmacy) spoke to BBC 5Live , BBC News and BBC Radio Berkshire about the antibody test.
Professor Ian Jones (Bio Sci) is quoted in a piece by The Daily Mail and the Daily Express about the significance of the R rate across the UK.
Sweetener which could be sprayed onto the outside of PPE masks to tell whether they fit correctly or not is being developed by scientists from Reading, and is featured on LBC, Breeze Radio and BBC Radio Berkshire. Professor Gunter Kuhnle (Food) is quoted in an article by The Wokingham Paper.
Dr Helen Dodd (Psychology) is quoted in an article by The Jewish Tribune about prioritising play when schools reopen.
Cold War weather: Further coverage of research into the effect of Cold War nuclear tests on rain clouds is covered by The Mirror, The Guardian, The Times, The I, Fox News, BBC Science Focus, and BBC Radio Berkshire, and Professor Giles Harrison also spoke to the station about the research here. Read our story here.
Other coverage
BBC Three mentions Henley Business School research into side hustles in a piece about the new series of Glow Up.
Professor Mathew Owens (Met) is quoted in a piece by the Daily Mail about recent solar activity.
Dr Mark Shanahan (Politics) is quoted by Al Jazeera Magazine in a piece about Nadine Dorries MP.