Reading in the News - Mon 18 May
18 May 2020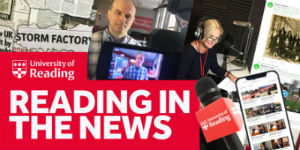 COVID-19:
Dr Simon Clarke (Bio Sci) is quoted in Forbes on football seasons potentially restarting; the Sun on children getting Covid-19 and unanswered questions ahead of wider school reopening; and Yahoo! News on public transport. Dr Clarke also spoke to BBC R5 Live, TalkRADIO, and LBC.
Dr Al Edwards (Pharmacy) spoke to CNN International about the US planning to loosen measures to restrict the spread of Covid-19.
Professor Ian Jones (Biological Sciences) is quoted in a piece by The Daily Mail on research behind suggestions of lifting lockdown restrictions regionally; and also in the Daily Mail on high numbers of cases of Covid-19 patients with blood clots.
Dr Dyan Sellayah (Biological Sciences) is quoted in the Independent on the link between Covid-19 risk and obesity.
Professor Adrian Bell (ICMA) writes for Times Higher Education on Covid-19 and the rejection of a bailout for UK universities.
Football: New research by Dr James Reade (Economics) and Prof Adrian Bell (ICMA) asking members of the public to help track football player heights is covered by BBC Sport, BBC Radio Berkshire, and BBC Devon. Read more about the citizen science project on player height here.
Dr Reade and Dr Carl Singleton (Economics) are also quoted in a BBC Sport article about how the League Two season may have played out; and the World Economic Forum covers an article for The Conversation about research from Reade and Singleton on how home advantage is lost when matches are played behind closed doors.
Cold War rain: Further coverage of research into the effect of Cold War nuclear tests on rain clouds is covered by Spiegel Wissenschaft, GetReading, and the Shropshire Star; and Prof Giles Harrison has penned an article in the Conversation about the research. Read our story here.
Other coverage
Obituaries in the Guardian for noted feminist journalist and film critic Margaret Walters, who taught English literature at UoR; and Roger Bowers, an English Language teacher who completed a PhD in Education at UoR. BBC Radio 4 also mention Janet Carr, a noted Psychologist who studied at UoR who recently died.
The Conversation host a post by Dr Andrew Urquhart (Henley Business School) about bitcoin, which has been republished by the National Interest.
Research on apples and the potential benefit on lowering cholesterol is noted in an article for the Times on the benefits of various vegetables.