Reading in the news - Wed 20 May
20 May 2020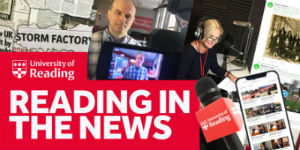 COVID-19:

<!--[if !supportLists]-->

Read expert commentary from Dr Al Edwards on antibody testing, Prof Adrian Bell on unemployment figures, and a range of voices on US President Donald Trump reportedly taking antimalarial drugs to protect against Covid-19.

#LockdownClimateChange
Sky News and Financial Times quote Professor Janet Barlow (Meteorology) on research she contributed to, which shows CO2 emissions have dropped dramatically in European cities since lockdown started. Read our news story here.
Prof Richard Allan (Met) is quoted in an article for Newsweek about the drop in coal electricity production around the world.
<!--[if !supportLists]-->

Other coverage
CNBC Africa spoke to South African international rugby player Tendai Mtawarira about the importance of education. Mtawariria is studying for an MBA at Henley Business School Africa.
A letter in Nature co-written by Dr Etienne Roesch (Psychology) on replicability of studies.