#WeAreTogether: Webinars give expertise on young people's wellbeing during Covid-19
20 May 2020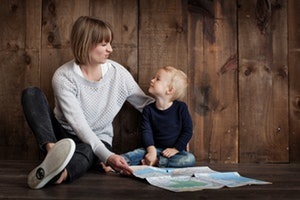 #MentalHealthAwarenessWeek
Parents and supporters of young people worried about the impact of Covid-19 can tune into a webinar series sharing expert advice and evidence on mental health care.
The Emerging Minds webinar series has seen experts from the University of Reading's AnDY (Anxiety and Depression in Young People) Research Clinic talk about a range of topics around mental health and wellbeing including caring for young people and the impact of self-isolation and dealing with anxiety and the importance of play on children's wellbeing.
On Friday 22 May, the latest in the series will see Dr Polly Waite, Associate Professor of Clinical Psychology speak on Back to school after lockdown: school reintegration and youth mental health alongside Fran Morgan from child mental health charity Square Peg and Professor Tamsin Ford from the University of Cambridge.
Dr Polly Waite, from the University of Reading said:
"After all of the upheaval of the Covid-19 lockdown, returning to school may be for many children an unsettling and potentially triggering experience for their mental health. It seems right and important to look at how we can best support children and young people to make that transition back into school bearing in mind that we have never quite experienced anything like this!"
All of the past webinar are available to listen back to, including Supporting children and young people with their worries and anxiety during COVID-19. What can research tell us?. In this seminar, Prof Helen Dodd from the School of Psychology and Clinical Language Sciences joined Dr Polly Waite and Prof Cathy Creswell to discuss what evidence can help us to understand how best to care for young people during lockdown.
Prof Helen Dodd, a Professor of Child Psychology at the University of Reading said:
"We are concerned about how lockdown will be affecting children and young people's mental health and wellbeing. Some children will find this time easier because they don't have to face situations like school that they might find challenging, others will be missing their friends and lonliness and social isolation are a real concern.
"I'm really pleased to be able to contribute to the Emerging Minds webinar series and share what research can tell us about how best to look after children during and after lockdown. As lockdown ends and there is a phased return to some new kind of normality, expertise on caring for our children's mental health and wellbeing is even more crucial, as getting it wrong could have huge implications for them and the systems that barely cope in 'normal' times."
All of the webinars are available to listen back to at:
https://emergingminds.org.uk/emerging-minds-covid-19-webinar-series/