Reading in the news - Thu 21 May
21 May 2020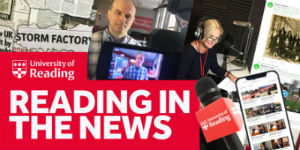 COVID-19: expert comment on the coronavirus pandemic
#WeAreTogether: Reading's work to help during the crisis
Dr Monika Parkinson (Psychology) spoke to ITV Meridian News about Reading's free online course for young people experiencing low mood and depression during lockdown, with some tips on staying mentally well.
#LockdownClimateChange: how COVID-19 changes show a greener future
A report in A Nacao (Cape Verde) and Live News (New Zealand) and Greenpeace on the environmental benefits of a four-day working week highlights a Henley Business School report.
The Echo (Ireland) reports on London's 60% drop in CO2 emissions
The Hindustan Times reports that lockdown and Cyclone Amphas is combining to give Mumbai high air quality, quoting PhD researcher Akshay Deoras (Meteorology).
Other coverage: