Reading in the news - Fri 22 May
22 May 2020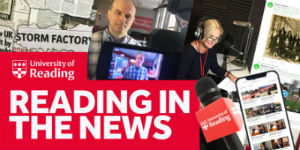 COVID-19:
Dr Simon Clarke (Biological Sciences) and Dr Al Edwards (Pharmacy) are quoted in an article for the Daily Mail about antibody tests available on the high street.
The Times also quotes Dr Clarke about antibody testing in a report on Scotland's plan to ease lockdown.
Dr Edwards spoke to talkSport and BBC London about antibody testing.
Prof Helen Dodd (Psychology) is quoted about children's mental health during lockdown in an article for the Telegraph on the psychology of having a heatwave during the pandemic.
India Today quote Prof Ian Jones (Biological Sciences) on a partnership between AstraZeneca and Oxford Uni to make a vaccine at scale.
Dr Charmi Patel (Henley Business School) is quoted in Forbes about more flexible working conditions to cope with Covid-19, particularly for working parents.
<!--[if !supportLists]-->

Sunshine record: Record sunshine for spring recorded at the UoR Weather Station is reported in the Telegraph (and on the front page of the print edition), The Sun, Phys.org and . Prof Andrew Charlton-Perez (Met) spoke to BBC Berkshire about the record.

#WeAreTogether:
Wokingham Paper reports on the launch of a new online portal for the University of Reading's museums.
<!--[if !supportLists]-->

Other coverage:

<!--[if !supportLists]-->