WeAreTogether: Meet the students using sport to help their peers tackle mental ill health
22 May 2020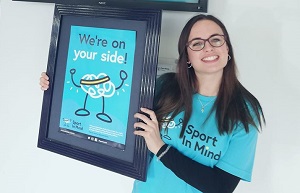 #MentalHealthAwarenessWeek
Students at the University of Reading have been helping their fellow classmates improve their mental health through sport.
Psychology students Leyla Owen (22, pictured) and Mark Jeavons (23) set up the Sport in Mind student society after doing some voluntary work with the Berkshire-based charity of the same name.
Sport in Mind is an independent charity founded in Berkshire in 2010 to help improve the lives of people experiencing mental health problems through sport and physical activity.
Leyla Owen, co-President of Sport in Mind Reading University, said:
"'After seeing the fantastic work that Sport in Mind do with the local community, I teamed up with a trustee from Sport in Mind and developed the idea. I know many students who have suffered with mental health issues during their time at university, including myself, and wanted to offer them a way to improve their wellbeing through sport.
"We set up the society through Reading University Students' Union (RUSU) last year and started out with three sessions a week. This year we have been able to increase the number of sessions to six a week and these range from yoga and mindfulness to boxercise, badminton and more. Our numbers are steadily rising, demonstrating the benefits students are seeing through engaging in physical activity."
All sessions are held at the University SportsPark and are free of charge. Each session is run by a fully qualified Sport in Mind coach. All abilities are welcome.
One student, who wishes to remain anonymous said:
"Before I started playing tennis with Sport in Mind I was a total beginner, I was also very inactive because of my anxiety disorder. But now I have more confidence and a wonderful group of friends. I am also eating better and have begun to lose a lot of weight. The coaches are very considerate of my mental health needs and are supportive. Tennis has helped me cope as I came off my antidepressants and I have developed a sustainable lifestyle because of it."
In addition to setting up the society, Leyla and Mark have working with Active Leaders to offer training to 13 volunteers who help them run the society. They attended a three-day course which provided them with the necessary skills to organise and lead activities. This included first aid training, risk assessment, safeguarding, event planning and management, and marketing.
At least two volunteer students attend every session throughout the week, meeting and greeting newcomers and helping the coaches set up.
Sport in Mind Reading University was recently nominated for a Get Berkshire Active award in the Youth Engagement Project of the Year category. The society have also picked up a number of awards from their peers, taking the RUSU Student Experience Award for Outstanding Inclusivity and Diversity in 2019, where Leyla also won the Volunteer of the Year. In 2020, the society took awards for Welfare Initiative Of The Year, Most Inclusive Volunteer Initiative, and Leyla and Mark won an award for Outstanding Contribution To Positive Wellbeing On Campus.