Reading in the news - Wed 27 May
27 May 2020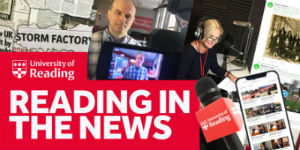 COVID-19: expert comment on the coronavirus pandemic
Dr Simon Clarke (Biological Sciences) is quoted in several US publications including the Miami Herald about whether the warmer weather will affect the spread of Covid-19, and in Financial News (in print) about fears for a second wave of infections as London's financial district considers a return to offices. Dr Clarke also spoke to talkRADIO.
Professor Michael Schmitt (Law) is included in a list of signatories on a letter issued by the CyberPeace Institute and supported by the International Committee of the Red Cross calling on governments to work together to stop cyber-attacks on healthcare providers during the Covid-19 pandemic. The letter appears in the Guardian, New York Times, CGTN, and Reliefweb.
Emeritus Professor Lynne Murray is quoted in an article for Toddle About suggesting that one positive side effect of the lockdown could be providing young children with the learning environment to develop interest in earth sciences.
#WeAreTogether: Reading's work to help during the crisis
Prof Gary Stephens (Pharmacy) writes for the Conversation about using llamas to produce antibodies being used in research on Covid-19. The article is republished in Yahoo! News, and Snopes.
<!--[if !supportLists]-->

Dominic Cummings: Berkshire Live and EA Worldview quotes Dr Mark Shanahan (Politics and IR) following the ongoing story about Dominic Cummings, chief advisor to the Prime Minister. Read Dr Shanahan's expert comment here.

Other coverage
A seminar on food security and food safety being run by the featuring UoR alumni Takudzwa Kufa is highlighted on the WHO and UN's FAO website.
Prof Tony Capstick (English Language) is quoted in coverage of a seminar by the Salzburg Global Seminar about why language learning is important for career development.
TomoNews US covers research into nuclear testing and its impact on rainfall in other parts of the world. Read our news story here.
Prof Chris Scott (Met) spoke to BBC Berkshire about the testing of a new rocket by Virgin Orbit.
<!--[if !supportLists]-->