Reading in the news - Thu 28 May
28 May 2020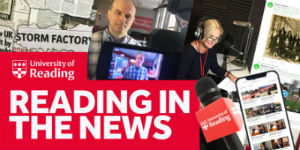 COVID-19: expert comment on the coronavirus pandemic

<!--[if !supportLists]-->

Football predictions: BBC Sport report on the predictions made by the scorecasting model produced by Dr James Reade and Dr Carl Singleton (Economics). The model has suggested how the League One season might finish. BBC Coventry and Warwickshire also covered the story in relation to Coventry City being most likely to top the League One table.

Other coverage
Independent have reposted a piece from the Conversation by Archaeology academics about rewilding and the Baltic.
An article for Dezeen, which is republished in MSN, sees PhD student and TV personality Piers Taylor talk about the Invisible Studios and notes a project built together with UoR students.
Food Manufacture report on a student team from UoR who have made it to the UK final of a product development competition, Ecotrophelia, with their take on banoffee pie.
BSRIA look at the link between office environments and health and wellbeing, and quotes Emeritus Prof Derek Clements Croome (SBE).
Prof Chris Scott (Met) spoke to BBC Berkshire about the testing of a new rocket by Virgin Orbit.
<!--[if !supportLists]-->