Reading in the news - Fri 29 May
29 May 2020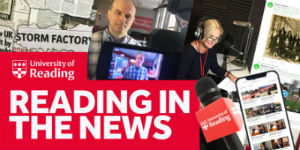 #WeAreTogether: Reading's work to help during the crisis
The University's llama herd, and their role in helping find antibodies that could help treat COVID-19, highlighted as Professor Gary Stephens (Pharmacy) spoke to Heart Radio, in hourly news bulletins, and to BBC Radio Berkshire. His Conversation article was printed in the i Paper (Friday edition) and i news website. Read our news story >
NutraIngredients reports that UK gut health experts, including Professor Glenn Gibson and Dr Gemma Walton (Chemistry, Food & Pharmacy), have written to the Department for Health on the role of pre- and probiotics against COVID-19.
<!--[if !supportLists]-->

COVID-19: expert comment on the coronavirus pandemic
Dr Simon Clarke (Biological Sciences) spoke to Talk Radio's breakfast show about the science behind new UK government '6 people' rules
Professor Ian Jones (Biological Sciences), and Dr Clarke, are quoted in the Daily Mail, Time Posts, Daily Post, and MedScape on COVID-19 test kits available to buy from online retailers
Dr Clarke quoted on the science behind the 'two metre' social distancing rule quoted by Press Association and used in dozens of regional media, such as the Yorkshire Post and Metro.
Dr Manuela Gonzalez-Suarez (Biological Sciences) interviewed by Harper's Bazaar on links between environmental damage and future pandemics.
Dr Al Edwards (Pharmacy) explained how the new Test & Trace system will work in the UK to BBC Radio Berkshire's Andrew Peach.
Rugby to business: World Cup-winning Springboks rugby star Tendai Mtawarira has started an online course at Henley Business School Africa, thanks to a scholarship programme, reports South Africa's Biz Community.
Horn discovery: Fishermen in Wales unearthed the horn of an auroch, an ancient cattle breed, in the Severn Estuary – Professor Martin Bell (Archaeology) is mentioned in coverage in the South Wales Argus.
Other news:
Former Reading lecturer James Carter talks about the power of poetry on BBC Berkshire.
Chris Bones, formerly of Henley Business School quoted by the Financial Times on the move by big-name food makers to sell products direct to the public online.
The Eastern Relief Road, which serves Thames Valley Science Park, and other new roads are filling the area up with traffic, a Shinfield parish councillor tells the Wokingham Paper.
The University is included in a Reading version of the boardgame, reports Get Reading