#UniForReading: University research informing future vision of town
02 November 2020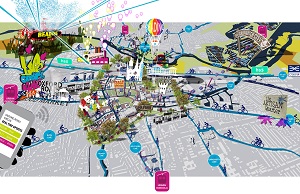 Research from University of Reading academics will play a key part in developing the future vision of Reading town.
Ahead of Reading Climate Festival next week, the University is publishing 'Reading 2050: a smart and sustainable city?'. This collection of articles is based on the 'Reading 2050 lecture series', which was hosted by the University's School of the Built Environment between October 2017 and October 2019.
The lecture series, which featured talks from University academics and various partners involved in the Reading 2050 project, helped create a platform to discuss and debate how Reading should evolve to a smarter and more sustainable future by 2050.
Read more about how the University is working together for our town >>>
The collection of articles, edited by Professors Tim Dixon and Lorraine Farrelly from the School of the Built Environment, considers Reading in 2050 from all angles: the place and its environment, the people and their lifestyle, the economy and future employment. It explores a wide range of topics, including:
The future of energy in Reading
The future of transport and mobility in Reading
Climate change and the net zero carbon challenge in Reading
Nature and people in our urban future
The impact of population changes on housing in Reading
Professor Tim Dixon, School of the Built Environment and co-chair of the Reading Climate Change Partnership, said: "The key to understanding the future of a place also requires an understanding of its past and present. Reading has a rich cultural history, but its more recent industrial heritage is also important to remember.
"Today, Reading is a very different town to the one of years gone by. It has responded to economic cycles with agility, innovation and strong growth, helped by the high number of start-ups and the hi-tech multinationals located here.
"But this progress raises a question: what sort of a place should Reading be in 30 years' time – 2050? This is especially pertinent when we think firstly about the huge environmental challenges that all our towns and cities face now and in the future, and secondly, how the COVID pandemic has provided us with a real opportunity to re-think the way we do things. After all, Reading has a current ambition to become net zero carbon by 2030. So how will it tackle the urban challenges it faces, and how will it use technologies to become a 'smart and sustainable' place to live? These are some of the crucial questions that the Reading 2050 project is focusing on."
Councillor Tony Page, Reading Borough Council's Lead Member for Strategic Environment, Planning and Transport, said: "We welcome the publication of the Reading 2050 Vision lecture series providing expert commentary on the future challenges facing our residents, young people and businesses.
"The current health and economic crisis reminds us all of the need to review past assumptions and be prepared to embrace new ideas.
"We will work closely with all our partners to deliver the Vision through the services of the Council and by working in partnership to support the new Reading Climate Change Strategy and the 'Powered by People' Reading Economic Recovery and Renewal Strategy, ensuring carbon reduction and future economic growth go hand in hand with a more inclusive town for all."
'Reading 2050: a smart and sustainable city?' is available to view here.
Reading 2050 Project
The Reading 2050 project was established in 2013 by the University of Reading, Barton Willmore and Reading UK to deliver a strategic, long-term vision that will support Reading's growth and prosperity, and help ensure delivery of a truly smart and sustainable city, by 2050. Through a series of workshops and sessions with a wide range of organisations and people from across Reading and the Thames Valley region, the project aims to develop an economically viable and evolving future vision for Reading in 2050, which links to and informs Reading Borough Council's Local Plan and the Reading Climate Change Emergency Strategy and Reading UK's ' Powered by People' Economic Recovery and Renewal Strategy. The Reading 2050 Vision was launched in September 2017.
Reading Climate Festival
As part of Reading Climate Festival (9-15 November), Professors Tim Dixon and Lorraine Farrelly will be taking part in a Twitter Q&A session on Thursday 12 November, 1-3pm. People can submit their questions on how Reading can become and smart a sustainable city of the future using the hashtag #Reading2050.
The University will also be hosting three evening sessions throughout the week where members of the public can quiz climate change experts on a wide range of topics. For more information, and to book a place, please click here.