Reading in the news - Tue 3 Nov
03 November 2020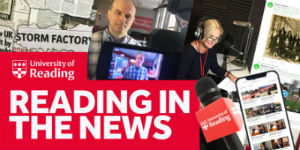 COVID-19: expert comment on the coronavirus pandemic
Dr Simon Clarke (Biological Sciences) spoke to, Voice of America and an earlier interview with BBC Radio 5 Live was repeated on the drive show. Comments by Dr Clarke appeared in the Daily Telegraph, Mail Online, Newsweek, and the BMJ.
CNN Online, Huffington Post and a number of US local publications quote Professor Kate Williams (History) about the news that Prince William tested positive for COVID-19 in the spring.
Dr Al Edwards (Pharmacy) is quoted in Epoch Times about immunity after contracting COVID potentially lasting six months.
#WeAreTogether: Reading's work to tackle the coronavirus crisis. Read our round-up
Deputy Vice Chancellor Professor Parveen Yaqoob spoke to BBC Berkshire about how the announcement of a new lockdown will affect the University of Reading. Read our news story about new measures put in place following the weekend announcement.
#UniForReading: reaffirming our role as a civic university – find out more.
Professors Lorraine Farrelly (Architecture) and Tim Dixon (Built Environment) spoke to BBC Berkshire (here and here) on the launch of Reading 2050, a new series of edited essays reimagining how Reading will look in the future. The launch is also mentioned on BBC Berkshire's news bulletins. Read our news story here.
Other coverage
Medical Xpress cover the launch of new EIT Food-funded resources to help parents get their children to eat more fruit and vegetables. Dr Natalie Masento (Food and Psychology) is quoted. Read our news story here.
Another project led by Dr Natalie Masento, Cook Clever, is covered in Food Navigator, looking at Generation Z attitudes to food and the links with food waste. Read our news story.
Professor Ben Laker (Henley Business School) writes for the MIT Sloan Review about ethically monitoring remote workers.