#PlanetPartners: Reading helps ECMWF train weather and climate leaders of the future
03 November 2020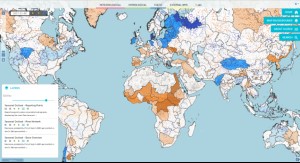 The University of Reading is playing a crucial role with the European Centre for Medium-range Weather Forecasts (ECMWF) to train a new generation of weather and climate experts.
In addition to dozens of joint research projects and collaborations between ECMWF and the University of Reading, the close location of the two centres in Reading means that the Centre benefits from a resource of hundreds of leading atmospheric scientists on its doorstep.
Many Reading and ECMWF scientists play a key role in training early-career researchers and PhD students, including through the NERC-funded SCENARIO Doctoral Training Partnership, of which both institutions are members. In addition, scientists from national forecasting agencies benefit from ECMWF's world-leading training in the latest forecasting skills and services, to which the University contributes.
Many young scientists jointly trained in Reading at both the University and ECMWF go on to become key players in the European and global scientific research community, some in key positions at ECMWF.
'Lifeblood of science'
One such scientist is Dr Rebecca Emerton, who completed her undergraduate degree in Meteorology at the University of Reading, before going on to study for a PhD and working as a post-doctoral researcher, also at Reading. She is now a scientist in the diagnostics team at ECMWF.
Her PhD training, undertaken at the University of Reading and funded by NERC as part of the Scenario scheme, developed her research interests. These include forecasting of the whole Earth system, the predictability and forecasting of natural hazards and their impacts such as tropical cyclones and floods, and the use of forecasts to take early action to reduce disaster risk.
In a blog article written for Reading's Department of Meteorology, Dr Emerton explained how her research at Reading had helped ECMWF develop more sophisticated and skilful flood forecasts.
"Over the course of my PhD, we developed two new seasonal forecasts for hydrological extremes, at the global scale," she said.
"After around one year of working on getting the system set up and finalising the forecast products, including a four-month research placement at ECMWF, the first GloFAS-Seasonal forecast was released. GloFAS-Seasonal is now running operationally at ECMWF, providing forecasts of high and low weekly-averaged river flow for the global river network, up to four months ahead."
Training national forecasters
ECMWF helps to train national weather forecasters from across its member and co-operating states in the latest developments in forecasting science, helping national forecasting institutions to help national governments. Many of the courses provided by ECMWF draw on leading research scientists at the University of Reading, who come with the added experience of regular teaching and supervision of meteorology students at all levels.
Professor Andrew Charlton-Perez, joint head of the Department of Meteorology at the University of Reading, said: "PhD students and early career researchers are the lifeblood of science, bringing new ideas and enthusiasm to projects and learning how to become the senior scientists we will rely on in the future.
"By working closely with ECMWF, Reading staff and students get a unique opportunity to learn from some of the world-leading staff who work at ECMWF, and ECMWF has a large pipeline of talented, international young scientists who might eventually join their staff.
"I'm also proud to be personally involved in ECMWF's training programme for staff members and students from all member states. By having the breadth and depth of the University of Reading's expertise in atmospheric science to draw upon, we are jointly providing a superb service for ECMWF member states in providing better forecasts and services, and helping national forecasters to make best use of them."
Image caption: Screenshot of the GloFAS seasonal outlook at www.globalfloods.eu