Reading in the news - Thu 5 Nov
05 November 2020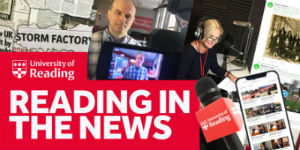 COVID-19: expert comment on the coronavirus pandemic
BBC One Scotland and BBC Radio Scotland interviewed Dr Simon Clarke (Biological Sciences) about new restrictions. Dr Clarke was also quoted in the Daily Mail about the UK government's test and trace system.
Dr Al Edwards (Pharmacy) was quoted in an MSN article about a mass testing programme proposed for Liverpool. The article was reproduced from New York Daily News (link unavailable) and appears on multiple US sites.
#WeAreTogether: Reading's work to tackle the coronavirus crisis. Read our round-up
Reading Chronicle and GetReading articles on the town's local test and trace system mentions that the team is working with the University of Reading to do more targeted tracing.
US election: Dr Mark Shanahan (Politics & International Relations) spoke to TRT World, and BBC Berkshire (and here) as the results of the Presidential election are still unclear. He was also quoted in Sputnik News, Arab News 24 and The Nation (Pakistan).
Elephant birth boom: Vicky Boult (Met) is quoted in The Telegraph (£) (print also) about the rise in Kenya's elephant population. The article also appears on Yahoo News.
Newton Fund prize awards: A project using local heritage and archaeology to support sustainable development has won the Jordan country prize in the 2020 Newton Fund prize awards, announces UK Research and Innovation. Prof Steven Mithen (Archaeology) was part of the University of Reading team which jointly led the project. Read our news story.
Other coverage
A Times (£) (print also) article on 25 things you can master in four weeks - the period of the new national lockdown - includes a mention of the University's Heart Health course.
The Daily Mirror (print), The Daily Express (print) and GetReading report on a new online picture archive tool called the Memory Lane project. Fronted by Prof Kate Williams (History), the project encourages the public to share their old photographs to create a more inclusive image of history.
Further coverage of a new study by Professor Chris Venditti, Dr Joanna Baker and Dr Andrew Meade (Biological Sciences) about the evolution of pterosaurs, giant winged reptiles that lived alongside the dinosaurs, in Malaysian Reserve. Read our news story and watch our video.
The Reading Chronicle (print) mentions the University's work with community providers to provide free meals for children around Reading Borough during half term.
BBC Radio London spoke to a UoR Business and Spanish student about her experiences of changing her year abroad due to COVID-19.
Further coverage of a new study led Professor Gunter Kuhnle (Food) which has found that people who consume a diet including flavanol-rich foods and drinks could lead to lower blood pressure, in Day Spa Magazine and Very Well Fit.
Prof Jane Setter (English) featured in this Channel 5 programme on the Queen.