Show compassion for others, Vice-Chancellor tells students
06 November 2020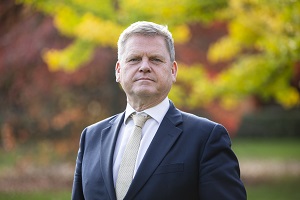 The Vice-Chancellor of the University of Reading has expressed his "disappointment and shame" in hearing that students may have been involved in an off-campus house party on the eve of new lockdown measures.
Thanking the majority of students for their continued enthusiasm for learning, and care and compassion for others, Professor Robert Van de Noort also said that any student found guilty of breaking the law, or University rules, would face disciplinary proceedings, which can lead to expulsion from the University.
Professor Van de Noort said: "I am deeply disappointed and ashamed to hear that Reading students may have been involved in a house party near our campus that not only breaches then existing COVID-19 restrictions but which took place on the evening before a national lockdown. I can hardly believe that anyone in these circumstances could behave in such a selfish way.
"If it turns out that students were involved, then not only do they deserve to face the full weight of the law, their actions will also be investigated under our disciplinary processes. If a student has been found to have broken the law and our own University rules, this can lead to sanctions ranging from fines to suspension or expulsion from the University. We simply will not tolerate behaviour that puts our whole community at risk.
"I am proud of the way the vast majority of our students have responded to the coronavirus crisis by acting responsibly, volunteering to support charities, and by helping each other. To be a part of the University of Reading means sharing our values of compassion, community and intelligence. This type of behaviour falls far short of these expectations."
Jason Brock, Reading Borough Council Leader, said: "As the whole of Reading makes huge sacrifices to help contain the virus this is obviously very disappointing. We fully support both the Police and the University in their actions.
"The Council continues to work closely with the University and all partners, as we have done throughout, to try to help manage and reduce the transmission of the virus in the community.
"The University's own Outbreak Management Plan aims to limit the spread of the virus as far as possible. The walk-in testing centre opened recently at the London Road campus will help students get quick and easy access to free tests on their doorstep, with a result the next day. This facility is of course, also accessible to the wider public too by appointment.
"We know the majority of students are following the rules but, as always, I would continue to urge all residents to do the right thing for Reading by sticking to the rules through November and beyond. We must take the necessary precautions required of us all in order to keep everyone in our local communities safe."
Working together
The University is working closely with council, police, and health authorities to bring down cases of COVID-19 among students and the wider community to help protect others from the virus.
This week, the University launched a new helpline, open seven days a week, to help provide information for students, staff and members of the local community who require information on how the University is responding to the latest lockdown guidelines.
The University has already been publishing daily updated figures on new coronavirus cases among staff and students on its website, established a joint incident management group with Public Health England to take action to reduce transmissions, and issued renewed guidance to students and staff outlining what they must do to keep themselves and others safe.
The University is continuing its system of a mixture of online and face-to-face, socially distanced teaching, providing a balance of in-person support and online resources for its students. Latest data of COVID-19 cases show that safety measure to reduce risks of infection during in-person teaching are working well, but the University has a range of further measures it can take if case numbers increase.