#UniForReading: Biggest ever Reading climate and health report highlights traffic pollution issue

09 November 2020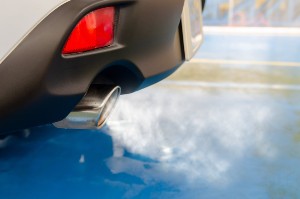 People in Reading remain vulnerable to air pollution despite positive recent steps to reduce the town's carbon footprint, according to the most detailed ever local-scale report into climate change and health.
The Reading Countdown report, published today (Monday 9 November) by researchers at the University of Reading and Fondazione CMCC in Italy as part of the Reading Climate Festival week, studied the specific effects of climate change on the health of Reading's population, and assessed efforts to mitigate these.
Among the findings were carbon dioxide emissions from traffic have decreased far less in Reading than from other sources and are linked with rising numbers of deaths locally from respiratory diseases, making air quality a potentially urgent area to address. It also found that more frequent heatwaves are posing a threat to Reading's growing older population.
The Reading Countdown report is a localised report inspired by the Lancet Countdown, an annual report by world-leading experts including Professor Elizabeth Robinson at Reading, that tracks links between climate change and health globally.
Key findings
Temperatures rising in Reading: Average temperatures, frequency of heatwaves (defined in Berkshire as three consecutive days at or above 27

°

C) and heat stress days (extremely hot days that impact the body's ability to function normally) have steadily increased in Reading, as globally, over past four decades.

The University's weather observatory recorded 16 heatwaves in the last decade, compared to two during the 1960s.
Reading has experienced 23.4 heat stress days since 2015 – 1.7 more than between 1981-2010.

More heat-associated diseases: The prevalence of diseases linked to heat and heat stress, such as cardiovascular and respiratory diseases and diabetes, has increased.
Respiratory disease deaths rising: Deaths in Reading from respiratory diseases have increased by 3.4%, chronic kidney disease by 1.5%, and transmittable diseases like flu by 5%. Respiratory disease death rates are higher in Reading than the wider South East region.
Ageing population: There is some evidence that Reading's population is ageing: the number of people over the age of 65 rose from just over 17,000 in 2008 to just over 20,000 in 2018.
Strong carbon footprint reduction: Reading has reduced its carbon emissions by nearly 50% since 2005 – a larger reduction than the average for England of 35%.
Transport emissions remain high: Despite the overall emissions reduction, transport-related emissions have only fallen by 18% in Reading, and deaths from particulate air pollution have been increasing in the town since 2015. Health may not, therefore, be benefiting from the type of carbon reductions that have taken place.
More people taking the bus: Reading bus journeys rose from 16 million to 22 million (a 38% increase) between 2009-2018, despite public transport use in England as a whole falling during that period.
Above-average electric vehicle charging access: Reading has a higher rate of electric vehicle chargers (31 per 100,000 people) than England as a whole (27 per 100% people).
Increased media coverage: 45% of Reading Chronicle articles mentioning climate change since 2008 were published in 2019, with the first half of 2020 seeing similar number. However, only 13% of these mention its health impacts.
MPs engaging with climate issue: MPs representing a Berkshire mentioned climate change in 121 Parliamentary debates since 2006, out of 5,297 they collectively participated – a rate of 2.28%. Health impacts were only mentioned in two of these debates (both times by Matt Rodda).
Climate 'strain' on Reading healthcare services
The Reading Countdown report was co-produced by Professor Robinson and Dr Claudia Di Napoli at Reading, and Dr Shouro Dasgupta from the CMCC and Ca' Foscari University of Venice, Italy - all of whom are in the first working group of the Lancet Countdown – and Reading undergraduate students James Baldock and Daniel Piears.
Professor Robinson said: "In Reading, the impacts of climate change on human health may not be so visible, but they are already being felt, harming people's livelihoods, and putting increased pressure on our local public health services. The strain of climate related health problems diverts resources that could be spent treating other illnesses and diseases."
The team adapted the worldwide analysis methods used in the Lancet Countdown to apply them to Reading as a town, using data from the Office of National Statistics, the Royal Berkshire Hospital, the University's weather observatory, and other sources.
They looked at things like death rates from diseases associated with heat stress, hospital admissions for heat-related illnesses, changes to the demographic and habits of the population, and how often climate change and health was mentioned in local press and by Berkshire MPs.
The report was prepared as a contribution to the Reading Climate Action Network, a collaboration between individuals, organisations and businesses working to actively improve the town's response to climate change and the challenges it brings.
Reading 'not immune' to heat threat
Dr Claudia Di Napoli, a postdoctoral researcher at the University of Reading and co-author of the report who recently published a study on its impacts on health globally, said: "These findings highlight that Reading is really not immune to the silent threat of heat. As our climate warms up, people locally and around the globe are getting more and more exposed to dangerous environmental conditions.
"Data shows that the number of heat stress days have increased in Reading over the past four decades. In parallel, numbers of deaths and hospital admissions linked to heat-sensitive disorders and illnesses, such as cardiovascular diseases, have risen in our town."
Daniel and James took leading roles in the report through the University's UROP (Undergraduate Research Opportunities Placement) scheme, which gives students the chance to work on real and impactful research projects alongside their studies.
Daniel, an Archaeology student, said: "That we are writing this report in the middle of the Covid-19 pandemic only highlights the need for a better understanding of the links between climate change and health, and the contribution that towns and cities can make to climate change mitigation. This has benefits not only for the health of people locally, but contributes to that of the global population."
James, a Human and Physical Geography student, said: "With limited time and budget, and constrained by Covid-19, we recognise that this report cannot be a fully comprehensive assessment of the current impacts of climate and associated health risks in Reading. However, we hope that this report will inspire others to contribute to and expand on our first Reading Countdown for public health and climate change."
University committed to sustainability
The University of Reading has made significant progress in reducing its own carbon footprint in recent years, and is on course to surpass its target of a 45% carbon reduction by 2021.
Experts at the University are also taking a leading role in setting out a vision for a smarter and more sustainable Reading, by co-chairing the Reading Climate Change Partnership and editing a book outlining how the town could look by 2050.
Reading experts are also contributing to the Reading Climate Festival programme this week, with an online presentation of the Reading Countdown report taking place at 5pm on Monday evening.
The programme also includes online 'Quiz the Experts' sessions and a Twitter Q&A hosted by Reading climate scientists, inviting members of the public to discuss climate change issues and learn about the University's research aiming to do something about them.