Reading in the news - Mon 9 Nov
09 November 2020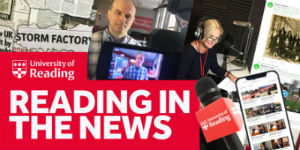 COVID-19: expert comment on the coronavirus pandemic
Professor Ian Jones (Biological Sciences) is quoted by New Scientist, the Times, the Observer, the Daily Mail, the Financial Times, Metro, the Telegraph, The National, the Sunday Express, the Sunday Post, the London Economic, BGR and Tekk in Germany, and was interviewed on LBC Radio, on the new strain of the coronavirus in mink in Denmark; and in the Times on how effective iodine might be at killing the coronavirus.
Dr Simon Clarke (Biological Sciences) is quoted by the Daily Mail on a drop in the infection rates in some parts of the UK that were under Tier 3 restrictions; the Daily Mail and Express on antibody tests; and was interviewed on BBC Radio Berkshire about support bubbles.
Research led by Professor Uma Kambhampati (Economics), showing female leaders have handled the pandemic better than men, is mentioned in a Financial Press article on the US getting its first female vice president. Read our news story.
#WeAreTogether: Reading's work to tackle the coronavirus crisis. Read our round-up
Meals for children: BBC Radio 4 interviewed Matt Tebbit (Head of Casual Dining and Bars) about the University joining the Menus For Change initiative, meaning it has rewritten its menus to provide nutritious and locally-sourced ingredients and less processed food. Read our Staff Portal story.
Student fines: The BBC news online, the Reading Chronicle and Get Reading reports on the three students who received fines for breaching the rules on gatherings, and the Evening Standard, the Chronicle and LBC Radio report the response from the Vice Chancellor. BBC Radio Berkshire interviewed Pro Vice chancellor Paul Inman about the incident. Read the response in full.
US presidential election: Heart Radio Berkshire and BBC Radio Berkshire interviewed Dr Mark Shanahan (Politics & International Relations) as the votes were counted in the US presidential race.
Other coverage
An interview with Phil Creighton, a reporter at the Wokingham Paper, on BBC Radio Berkshire discussed a University of Reading project showing how letting children see vegetable helps encourage them to eat it. Read our news story.
Get Reading features a Reading graduate who lost both his legs in a plane crash before flying in the Battle of Britain during the Second World War, in an article for Remembrance Sunday.

Current Archaeology reports on the excavation of an Anglo-Saxon warlord near Marlow by University of Reading archaeologists.

BBC Radio Gloucester interviewed Professor Kate Williams (History) about her Memory Lane project collecting people's old photographs to create a new historic archive.

Farming Life reports on the Focus on Farmers initiative, which the University co-runs.