Reading in the news - Tue 10 Nov
10 November 2020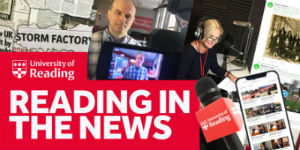 COVID-19: expert comment on the coronavirus pandemic
#WeAreTogether: Reading's work to tackle the coronavirus crisis. Read our round-up
An extended edition of a BBC Radio 4 Food Programme episode spoke to Matt Tebbit (Catering) about how the University of Reading has responded to catering during the pandemic.
Reading Chronicle report on the latest cases reported by the University of Reading.
Reading Climate Festival: Dr Andrew Charlton Perez (Met) spoke to BBC Berkshire at the start of Reading Climate Festival about a series of online Q&A sessions with experts from the University on all aspects of climate change. All the events are available here.
Other coverage
Dr Mara Oliva (History) writes for the Conversation about the legacy that the current President Donald Trump will leave. In addition, Dr Mark Shanahan spoke to BBC Berkshire about the differences between the UK and US elections.
Dr Miriam Clegg (Food) appeared on C4's Food Unwrapped Investigates during an episode looking at the science behind diet pills.
The American Geophysical Union's EOS magazine reports on a crowdfunded project on space weather, and cites UoR research.
Dr Heike Schmidt and PhD researcher Francesca Baldwin (History) write for the Conversation about conflict in Ethiopia, and the article is republished in All Africa, and Modern Ghana.
Further coverage of EIT Food-funded See and Eat project in Wokingham Today. Dr Natalie Masento (Food and Psychology) is quoted.
The Grocer publish a shortlist of their store managers of the year, which includes UoR graduate Nick Unter.
The Bookseller (in print) reports on a new book by Eimar McBride, who became the first University of Reading Beckett Creative Fellow and wrote the collected texts under her fellowship.
GetReading reports on new traffic calming measures around the Redlands area near to the Whiteknights and London Road Campuses.