University part of successful funding bid for Oxford Road 'Community Story Telling' project
10 November 2020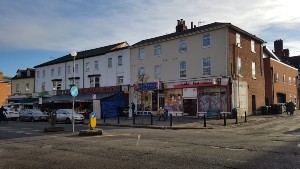 Academics from the University of Reading have been part of a successful bid to secure over £9,000 from Historic England, to initiate four exciting 'Community Story Telling' activities focussed around the Oxford Road in west Reading.
The bid was a joint collaboration with Reading Borough Council's High Streets Heritage Action Zone (HSHAZ) team, who received the funding, and other partners.
The aim of the project is to engage with Oxford Road area communities to explore people's real stories of the area to amplify the local heritage and rich multicultural history of the road.
Planned activities include:
The Oxford Road Storyboard - focusing on identifying "Who we are" as a theme that brings to light all the fabulous stories along the Oxford Road;
Oxford Road shop window art gallery - bringing together local communities, shop keepers and local artists to re-imagine shop fronts and other parts of the high street as gallery and spaces;
A Story-telling promenade performance along the Oxford Road (also filmed and shared online);
Creative and inventive Covid public safety artwork interventions which link to both heritage and the Oxford Road businesses.
This pilot project will be developed as a springboard to a more in-depth exploration of 'Community Story Telling' for the wider Heritage Action Zone programme, which will help to promote a sense of place and identity, mutual respect, understanding and cohesion.
Professor Lorraine Farrelly, School of Architecture at the University of Reading, said: "The HAZ project has involved academic staff and students from the University of Reading to propose ideas that will improve the quality of space on the high street.
"Dr Sally-Lloyd-Evans, the University's lead on public engagement with research, has co-ordinated engagement activities with different communities in the area that have been key to the success of this project.
"Our idea 'reimagining the high street', focusses on Oxford Road and is about using stories from the local community to understand the high street and develop ideas for artists to work with the local community to create new ways to engage with the high street in the Oxford Road area."
Cllr Rowland, Reading's Lead for Culture, Heritage and Recreation, said: "I am so excited by this innovative project working directly with our communities and shop-keepers along the Oxford Road. This is a real chance to celebrate our diverse community and to breathe new life into areas of the town through cultural and creative activities.
"The idea of the HAZ is to future-proof our high street areas by highlighting the heritage of our radial high streets. The Oxford Road is a medieval road out of Reading Town Centre and has a vibrant history that manifests itself today in its multi-cultural, colourful streetscape. It is hoped that people will more readily note and come to understand the Oxford Road's exciting Heritage through this programme."
Reading's High Streets Heritage Action Zone programme
The Council's wider High Streets Heritage Action Zone (HSHAZ) programme will run for 3.5 years until 31 March 2024. The project aims to breathe new life into the high street areas within the Castle Hill/Russell Street/Oxford Road, St Mary's Butts/Castle Street, and Market Place/London Street Conservation areas of the town.
To find out more about Reading's HSHAZ visit: www.reading.gov.uk/planning/reading-high-streets-heritage-action-zone
High Streets Heritage Action Zone (HSHAZ) programme is part of a nationwide initiative designed to protect and enhance the town's historic high streets. The programme will focus positively on the attributes of the streets' heritage to future-proof their environment and businesses, making them more attractive, enjoyable and vibrant destinations for people to shop, relax and spend time in.
The scheme launched nationally on 19 September. To find out more visit: https://historicengland.org.uk/whats-new/news/funding-for-historic-high-streets-recovery/