Reading in the news - Wed 11 Nov
11 November 2020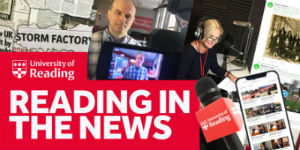 COVID-19: expert comment on the coronavirus pandemic
#WeAreTogether: Reading's work to tackle the coronavirus crisis. Read our round-up
Deputy Vice-chancellor Professor Parveen Yaqoob spoke to BBC Radio Berkshire about the mass testing programme proposed for students, starting at the end of this month.
Typewriting music: BBC Radio 3 interviewed Dr Vaibhav Singh (Typography) about music he has been studying that is composed only using typewriters.
Ethiopia conflict: An article written for The Conversation by PhD researcher Francesca Baldwin and Dr Heike Schmidt (both History) is republished by Quartz and All Africa. The article has also been widely shared on social media in Ethiopia.
Other coverage
Dr Claire Kennan (Impact Team) appeared on the Channel 4 (27 mins 48 secs) programme Medieval Lincoln.

Matt Tebbit (Catering) spoke to BBC Radio Berkshire about the Menus of Change initiative the University has signed up to, which means isolating students receiving food parcels are being fed fresh, homemade food.

Wokingham Today reports on the borough's first Youth Climate Conference, involving University of Reading experts.

Bellanaija reports that Henley Business School will provide entrepreneurial training to contestants in a music talent project in Nigeria.
Campbell Macpherson (Henley Business School) writes for We Are The City about how leaders can embrace change.
Sunday World reports on Henley Business School research showing the prevalence and value of side businesses to the UK economy.
Today reports on Reading research showing flavanol-rich foods lower blood pressure. Read our news story.