Expert comment: 'Impressive' Covid-19 vaccine trials
11 November 2020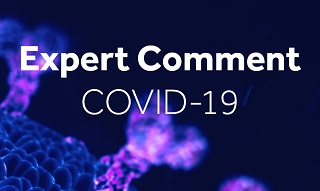 <!--[if !supportLists]-->- <!--[endif]-->On the news that the Pfizer vaccine has been found to be 90% effective in offering protection from the virus.
Prof Ian Jones, Professor of Virology, University of Reading, said:
"Of all the current vaccine currently in development the BioNtech product always looked like the most bang-per-buck as it is entirely focused on the part of the virus that binds to the human cell, the receptor binding domain.
"The questions around its use were about the ability to manufacture at scale and the possible toxicity associated with a directly injected RNA product. The trial data show excellent results in both of those areas; really impressive protection and no reported adverse events.
"The only things we will not know for some time is the longevity of the response in all age groups, but assuming antibody titers are high that should be at least as good as any other vaccine currently in trial.
"More generally this would appear to indicate that this approach has legs and is likely to useful for other emerging disease."
<!--[if !supportLists]-->- <!--[endif]-->On how the Pfizer vaccine will be distributed while being kept at extremely cold temperatures
Dr Alexander Edwards, Associate Professor in Biomedical Technology, Reading School of Pharmacy, University of Reading, said:
"In general, cold-chain distribution and storage is built into the pharmaceutical supply chain- even the shelves on your corner pharmacist will have regular temperature checks. But -80 freezing (whether in Celsius or Fahrenheit) is not routine.
"However, this temperature does have one unusual advantage: you can distribute on dry ice (frozen carbon dioxide). Instead of just being used for fog machines at parties, distribution networks using dry ice will be brought into use for distributing frozen vaccine batches. Care is needed not just to keep the vaccine frozen, but to log temperature to avoid accidental thawing which could inactivate it.
"To bring people into vaccination sites already requires significant coordination: not just someone to give people the jab, but everything from cleaning, through paperwork, to coordinating so people can attend a second injection. Adding ultra-low temperature freezer capacity to this is inconvenient, but is not an insurmountable barrier."
<!--[if !supportLists]-->- <!--[endif]-->On reports that the Russian Sputnik vaccine has also demonstrated 92% efficacy.
Prof Ian Jones, Professor of Virology, University of Reading, said:
"The Sputnik data is yet more good news for Covid-19 vaccine development. Although based on fewer cases than the recent Pfizer data, the vaccine looks as efficient and, like the Pfizer data, confirms and extends the earlier phase 2 results.
"We still need to know about the longevity of the response and the efficiency in different age groups, but the result bodes well for the other trials currently in progress and for having enough vaccine in geographically diverse regions to enable a comprehensive vaccination program on a global scale."
These and other expert quotes were widely used in media. See our 'Reading in the news' reports:
https://archive.reading.ac.uk/2020/November/pr850719.html