Expert comment: Mass rapid testing 'best way out of this nightmare'
11 November 2020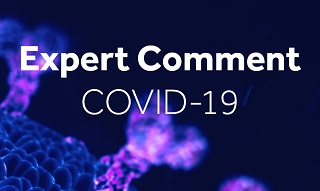 Dr Simon Clarke, Associate Professor of Cellular Microbiology at the University of Reading, said:
"The Prime Minister made a seemingly hurried announcement at the end of his news conference statement (on Monday 9 November) about a wider roll out of rapid coronavirus testing.
"While this may have been announced now purely as a way to provide some sugar along with the bitter medicine of lockdown, mass rapid and effective testing and isolating of infected people really is the best way for the country to get out of this nightmare.
"It highlights the terrible failure of efforts to improve the NHS Test and Trace system fast enough and to make it adequate over the summer after we emerged from the previous lockdown. The failure to keep pace with demand earlier in the autumn, which was the genesis of this second wave, meant people have been less likely to follow the rules. It has also meant that people without symptoms, but who were infectious, have been spreading the virus without any way of knowing that they are doing anything wrong.
"But the details on mass rapid testing still remains thin on the ground, and we will need to see some serious concrete plans and quickly, if we are not to suspect that the Prime Minister's statement was purely about news management."
Dr Alexander Edwards, Associate Professor in Biomedical Technology, Reading School of Pharmacy, University of Reading, said:
"Some caution is needed to qualify headlines that mass testing will somehow transform the situation we are now in. Any testing program can only be helpful in reducing health and economic impact of COVID-19 if it fits into a larger, coherent and effective strategy to slow transmission.
"Testing can only reduce infections if it prevents those testing positive from spreading the virus further. To achieve this, support for people to isolate- either those who test positive, or anyone they encountered who could go on to become infected- is essential.
"Technology and testing is one of our most powerful tools, but technology is nothing without a joined-up and supportive public health strategy."
"Overall, the accuracy of a rapid antibody test – the AbC-C19 test developed by the UK Rapid Test Consortium – is very carefully measured and reported to be broadly in line with what is expected for this type of test. No test is perfect, but if you know how accurate your test is, you can still make great use of it. Tests often work less well in 'real world use' than in initial laboratory evaluation.
"Antibody tests remain the best way to assess population levels of infection, but we do know levels of antibody can change with time. Again, this type of data measuring antibody test accuracy is essential to guide use in population surveys. Rapid tests still offer a very convenient format for testing, but may not pick up as many positive samples as laboratory tests.
"Antibody tests should not be used to try to check individual infection status or provide any kind of 'immunity passport'. This is for two reasons: test accuracy is still not high enough and there still appear to be too many false positives; and secondly, we don't know how well or how long antibody responses protect from reinfection.
"With so much talk of vaccines, it's also worth mentioning that it remains vital to measure antibody levels before and after vaccination, so that we can tell how immunity arising from infection differs from immunity driven by vaccination. Again, this vital research can only be done if we know how accurate our antibody tests are."
These and other expert quotes were widely used in media. See our 'Reading in the news' reports:
https://archive.reading.ac.uk/2020/November/pr850719.html