Reading in the news - Thu 12 Nov
12 November 2020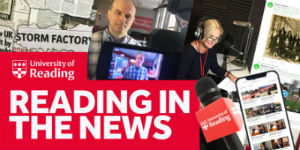 COVID-19: expert comment on the coronavirus pandemic
#WeAreTogether: Reading's work to tackle the coronavirus crisis. Read our round-up
ITV Meridian interviewed Deputy Vice-chancellor Professor Parveen Yaqoob for a feature on mass student testing. Professor Yaqoob featured on BBC Radio Berkshire news bulletins yesterday following her breakfast interview also on mass student testing - the radio station also spoke to students about their thoughts on the plans, as did BBC Hereford and Worcester.
GetReading, The Reading Chronicle and Reading.co.uk reported the statement from Professor Yaqoob on mass student testing.
The Wollstonecraft statue: Dr Jacqui Turner (History) is in The Daily Express (print) commenting on the controversial nude statue of Mary Wollstonecraft, an English writer, philosopher, and advocate of women's rights.
Reading Countdown report: Reading.co.uk reports on the launch of the Reading Countdown report, launched this week as part of Reading Climate Festival, which studied the specific effects of climate change on the health of Reading's population, and assessed efforts to mitigate these. Read our news story here.
Other coverage
Prof Jane Setter (Language and Linguistics) was on BBC Radio Berkshire ahead of her public lecture last night on accents and why people react to them in different ways.
An article in The Psychologist looking at the allure of mysteries features comment from Prof Kou Murayama (Psychology).
Bio Med Central reports on the origins of #BlackInCardioWeek, which celebrates black scientists working in cardiovascular research, which was co-organised by PhD researcher Chichi Okagbue.
Further coverage of a new study led Professor Gunter Kuhnle (Food) which has found that people who consume a diet including flavanol-rich foods and drinks could lead to lower blood pressure, in Yahoo Lifestyle.
Food Navigator features an article on food health claims containing comment from Prof Rodney Jones (Language and Linguistics).
Wales Online reports students' reactions to the evacuation plan for Christmas - the article quotes Jade Eastwood, a third year Geography student.
Times Higher Education features an obituary for Don Porter, who worked at the University's Centre for Applied Language Studies for over 20 years.
Mail Online reports on the opening of an inquest into the death of Eiichi Nakajima, a Film, Theatre and Television student who studied at Reading.