Reading in the news - Fri 13 Nov
13 November 2020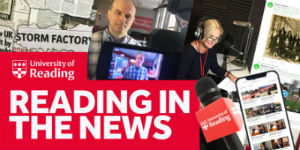 COVID-19: expert comment on the coronavirus pandemic
Dr Simon Clarke (Biological Sciences) was a guest on BBC Radio 5 Live answering listener questions, and was interviewed on BBC Radio Berkshire. His comment piece for the Spectator appears in their print edition; and is quoted in the Times and Mail Online about using chicken antibodies to defend against COVID.
Professor Ian Jones (Biological Sciences) is quoted in the Independent and Yahoo! News about Hungary agreeing to trial a Russian-developed vaccine
#WeAreTogether: Reading's work to tackle the coronavirus crisis. Read our round-up
Reading Chronicle reports on the possibility of mass testing for students to enable them to safely return to their families for Christmas. Deputy Vice-Chancellor Professor Parveen Yaqoob is quoted.
Language evolution: An article in the Economist on how language evolves cites research by Professor Mark Pagel (Biological Sciences).
Other coverage
Further coverage of an opening of an inquest into the death of FTT student Eiichi Nakajima, in Pink News and Metro.
The Reading Chronicle reports on the Reading Countdown report on the impacts of climate change on health locally, led by Professor Elizabeth Robinson (Agriculture), is reported in. Read our news story.
Health Claims Unpacked, a project led by Professor Rodney Jones (English Language) to improve food packaging to reflect benefits of food to health is reported in Packaging Insights, Public Sector Catering, and Nutrition Insight.
The discovery of a Iron Age 'warlord' is mentioned in an article about metal detectorist finds in Oldie. Dr Gabor Thomas (Archaeology) is quoted. Read our news story.
Gay Community News looks at the impact of Brexit on LGBT+ rights across the UK and Ireland. Professor Alina Tryfonidou (Law) is quoted.
Food Online report on the Cook Clever project led by Dr Natalie Masento, on new findings about food preferences in young people.
German language outlet Tekk.tv reports on research by Professor Gunter Kuhnle (Food) about flavanols in diet. Read our news story.
Environmental News Network and Phys.org report on new research co-conducted by Professor Kelvin Balcombe (Agriculture) about consumer attitudes towards certain food standards including chlorine washed chicken.
BBC Radio Leeds, and other regional stations in the North East, told the story of the Victorian mouse trap which caught a mouse 155 years later in the Museum of English Rural Life, in a segment of amazing stories. Read more about the story here.

A repeat of Food Unwrapped Investigates on Channel 4 investigated weight loss claims on food supplement products with Dr Miriam Clegg (Food and Nutritional Sciences).