Reading in the news - Mon 16 Nov
16 November 2020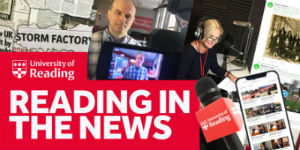 COVID-19: expert comment on the coronavirus pandemic
Dr Simon Clarke (Biological Sciences) wrote another column for the Spectator – this time on the extremely high rates of Covid-19 in South Dakota – and spoke to LBC Radio about the Pfizer vaccine
Dr Al Edwards (Pharmacy) is quoted in the Washington Post about immunity.
Professor Ian Jones (Biological Sciences) is quoted by the Telegraph on vaccines; and Mail Online about the virus mutation in mink.
#WeAreTogether: Reading's work to tackle the coronavirus crisis. Read our round-up
Paul Inman (Pro Vice Chancellor: International) spoke to BBC Radio Berkshire about the work going on to prepare to potentially test all students ahead of them going home for Christmas. Wokingham Paper also report the University's support for the proposals.
UniForReading: The Guardian reports on the University of Reading's leadership of the Engaging Environments project, training researchers to work with local communities to address issues environmental issues.
Cold weather: The Guardian reports on research led by Professor Andrew Charlton-Perez (Meteorology) into the health impacts of cold snaps caused by sudden stratospheric warmings. The article is republished by MSN News and Yahoo News.
Other coverage
Knowable Magazine quotes Professor Hannah Cloke (GES & Meteorology) on flood forecasting.

BBC Radio Berkshire spoke to Professor Steve Musson (GES) about how small businesses without websites and click and collect services may struggle in the coming months.

A blog written for Medium.com on parental expectations quotes Professor Kou Murayama (Psychology).
The Scottish Farmer and Food Navigator report on research involving Reading into consumer views on food production methods and animal welfare.