#PlanetPartners: Hurricane Iota flood warnings provided by Reading scientists

16 November 2020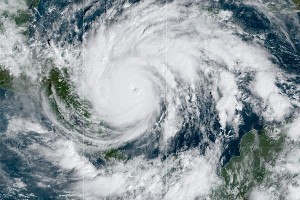 Flood forecasting experts at the University have teamed up with colleagues at the European Centre for Medium-range Weather Forecasts (ECMWF) and the University of Bristol to provide regular bulletins on potential flood impacts in Central America as a result of the hurricane.
The bulletins were requested this week by the UK Foreign, Commonwealth and Development Office as Iota strengthened into a category 5 hurricane on Monday and is forecast to make landfall in Nicaragua and Honduras late on Monday night.
It follows the success of bulletins the team previously provided for Cyclones Idai and Kenneth in Mozambique in spring 2019, and ongoing work at the University of Reading to support anticipatory humanitarian action globally.
"Forecasts for Hurricane Iota predict it to batter the region with extreme wind and rain, as well as potential deadly storm surges where it makes landfall. The homes and lives of tens of thousands of people will be further devastated by this latest storm, so up-to-date forecasts will be crucial to helping international humanitarian workers reduce the scale of the disaster."
The scientists will again use the Global Flood Awareness System (GloFAS), jointly developed by ECMWF and the European Commission, which provides an overview of upcoming flooding events for the next 30 days.
GloFAS has been fully operational as a Copernicus Emergency Management Service since April 2018. Aided by the close proximity of ECMWF to the University of Reading, scientists at the University regularly use GloFAS data to assess river flow and provide potentially life-saving information to governments around the world.
Dr Phil Newton, Research Dean for Environment at the University of Reading, said: "This is another example of the important work made possible thanks to international collaborations, notably with ECMWF. Our scientists' response to this call from the government will aid efforts to protect people who are at the mercy of this powerful storm."
Image caption: Hurricane Iota off the west coast of Central America. Credit National Hurricane Center